Mountlake Terrace's Roy Wagner was one of 52 veterans who received a tour of Washington, D.C., in Sept. 2023 called "One Last Mission."
Wagner, a World War II vet who served in Europe, was honored by Puget Sound Honor Flight one month before his 99th birthday with a trip to Washington.
The event was hosted and paid for by Puget Sound Honor Flight. This nonprofit organization honors Western Washington veterans with a trip to Washington to visit the memorials created in their honor.
"I have never had that much attention in my life," Wagner said. "Except for maybe when I got married."
The honors given to Wagner were on par with what could be expected of a foreign dignitary, not a humble soldier from the 5th Infantry, born and raised in Boise, Idaho. But where a dignitary is greeted with honor out of courtesy and good political relations, for Wagner and his fellow vets, it was out of heartfelt respect and gratitude for their service.
Wagner was greeted at SeaTac airport by American Legion volunteers, Boy and Girl Scouts and former military members. He was given a small procession through the airport to his terminal, where he boarded an Alaskan Airline jet decorated in honor of veterans. When his plane landed in Baltimore, fire trucks lined in formation and saluted by opening their fire hoses.
Once on the ground, Wagner was met with an honor guard who escorted him through the airport and to his transportation. Once they boarded the bus with the other vets, the American Legion Riders motorcycle club gave them a six-person motorcycle escort. All of them were riding Wagner's favorite motorcycle brand, Harley Davidson.
After the honored guests brought their luggage to their rooms, the motorcycle escort guided them to the American Legion Hall. Volunteers hosted a dinner celebrating the vets and their contributions to the U.S. and provided them with a motorcycle escort back to their hotel. The American Legion Riders would serve as escorts for the buses for the entire trip.
The tour started with a 6 a.m. wakeup call followed by breakfast. Wagner and Dave Brinkel, Wagner's friend, who served as the guardian for the trip, were used to getting up by at that hour anyway.
Brinkel explained that guardians undergo training and vetting courses to ensure the veteran's safety. The veterans wore red shirts during the trip, while the guardians wore blue.
Brinkel said he took his duty seriously.
"You are here to be of benefit to the veteran," Brinkel said. "The focus is on the veterans."
Wagner's tour visited monuments honoring American veterans of all eras, including Korea, Vietnam and Iraq. Of the guests, Wagner said he was the only one who served in WWII, and most in attendance were from the Vietnam War.
Wagner said he couldn't believe the size of the Vietnam Veterans Memorial or the number of names. The highly polished black granite face has 58,318 names carved into it as of Memorial Day 2017 and measures just over 246 feet long. But the monument held a deeper meaning to both Wagner and Brinkley.
"I don't think they really got an official welcome back home," Brinkley said. "I never did serve, but I had a lot of friends and high school friends that didn't come back."
Another impactful visit was to the Tomb of the Unknown Soldier at Arlington Cemetery. Wagner said he was amazed at the precision of the soldiers guarding the tomb.
"It's unbelievable," Wagner said. "They have to walk 21 steps, come from one end to the other, and they have to start and stop at the same spot every time. And there can't be any deviation."
"Everything is just really precise, but they did just this slight little scuff on their heels," Wagner said. "That's their way of saying hello to the veterans and their kids."
"That was something to watch; everybody should see that," Wagner said.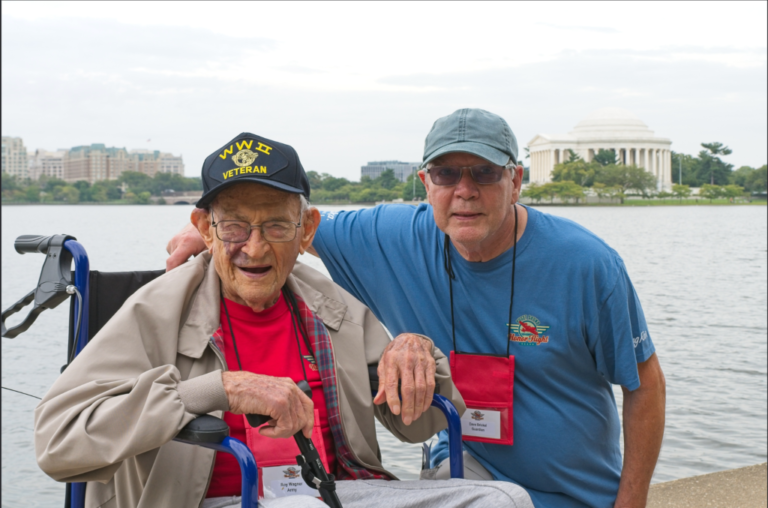 The most memorable site for the duo was the Lincoln Memorial. Wagner said you can look out from the second level and see the Washington Monument and its layout.
He explained that visitors can go up to the sculpture level via a shallow elevator that "looks like the original from the time of Abe Lincoln."
To further the rock-star treatment, Wagner had people coming up to him, wanting to take their picture with him — not bad for a humble man from the Pacific Northwest who just wanted to help his country.
The trip almost didn't happen; the paperwork was lost at one point. However, Wagner got help from his friend at the Mountlake Terrace Senior Center, now known as the Lake Ballinger Center. Gerald Arthun helped Wagner with his paperwork and called Puget Sound Honor Flight to explain the situation.
Born on Oct. 16, 1924, five years before the Great Depression, Wagner joined the U.S. Army when he was 19 because "they needed people."
He served in the 5th Infantry, nicknamed "Red Diamond" or the "Red Devils," in Germany, Austria and France to help win the Rhineland from the Nazis.
When he found out the war had ended, Wagner said his first thought was, "Well, I won't have anybody shooting at me anymore."
After the war was officially over in Europe, soldiers started to get a much-deserved leave to Paris, France. Troops entered their name into a lottery to choose who would get to go. Wagner didn't enter his name because he had no money to spend, but his friend entered his name anyway.
"I didn't have any money, but I did have a lot of cigarettes and chocolate," Wagner said.
The soldiers were dropped off at the red-light district of Paris, which made it easier for Wagner to sell his wares to get the cash for the weekend and visit the Eiffel Tower.
But not all chocolate was the same in WWII K Ration kits. Soldiers fighting in cooler climates, like Europe, received a sweet chocolate bar in their rations along with what we would think of today as an "energy bar" made out of cocoa, called a Field Ration D Bar. Used by U.S. and Canadian forces alike, D Bars were not the sweet treat we know and love and were never meant to be.
Although they had sugar, most likely used as a preservative, they were described by WWII vets as dense and bitter. They had the unfortunate side effect of a condition known as "bubble guts," giving it the moniker of "Hitler's Secret Weapon" by the troops that ate them.
Wagner had the coveted sweet chocolate; the cigarettes were just cigarettes.
When he returned to Idaho, Wagner started a family and became a farmer for about 18 years, growing potatoes, wheat, and alfalfa hay before moving to Seattle to work for Boeing.
When asked about plans for his birthday, Wagner responded by asking what he could do that he hadn't already. To be fair, after his "One Last Mission," he has a point.
Happy birthday, Roy, and thank you for your service.
— By Rick Sinnett