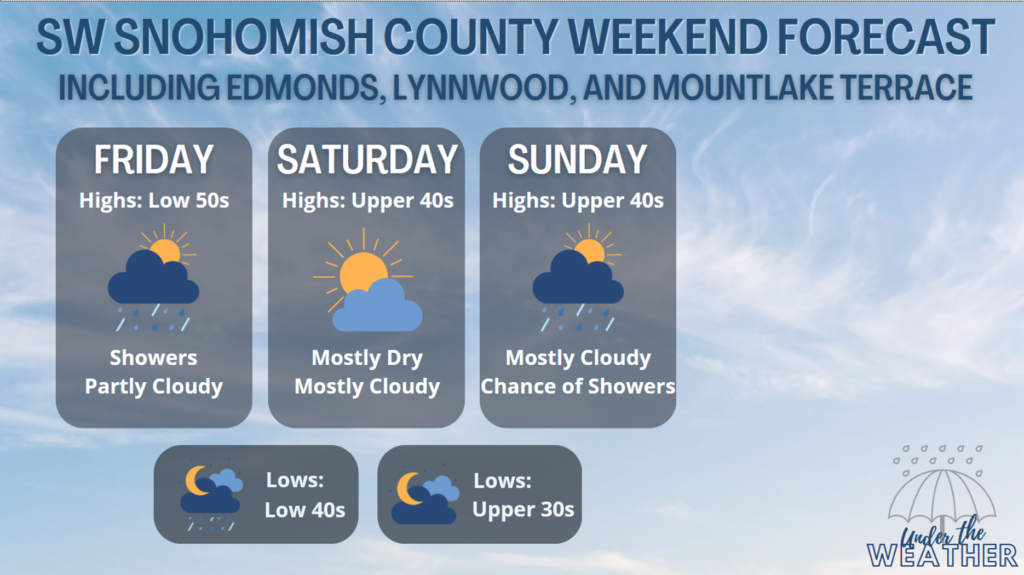 It's hard to believe, but Valentine's Day is just around the corner — it snuck up on us, didn't it? If you are celebrating, hopefully your preparations are well-underway!
In honor of the holiday, let's take a quick peek at the climatology at Paine Field for Feb. 14. The record high daily precipitation is a whopping 0.92 inches, which fell back in 2011. Talk about a washout! On average, however, we see just over a tenth of an inch. In all, since 1999, we've only had a dry Valentine's Day (0 inches or a trace amount of rainfall) seven times.
From 1999 to 2022, the temperature for Valentine's Day climatologically ranges from 58 degrees to 28 degrees, with the former being the warmest high temperature and the latter being the coldest low temperature. On average, we see a high of 46.3 degrees and a low of 36.5 degrees.
Many of you will likely be celebrating over the weekend (unless you're like me and my husband, who will be celebrating Valentine's Day and Taco Tuesday simultaneously), and overall, nothing too exciting weather-wise is expected.
An upper-level trough (portrayed above with the UW WRF-GFS model) will make its way to our area Thursday night into Friday, which will lead to showery conditions as we start out the day. An associated cold front is also expected to come onshore, contributing to the continuation of showers. There is also the chance a convergence zone could form in the afternoon, which could prolong showery activity for those in the typical Puget Sound Convergence Zone-prone areas. In between the rain, however, there is the chance for some sunbreaks. High temperatures will be a bit mild for this time of year, sitting right around the 50-degree mark.
The chance of showers remains Friday night into Saturday, but afterward, Saturday is expected to be dry. Mostly cloudy skies are still likely, but if you're going out and about, rain should not be an issue. Highs will be close to normal, in the upper 40s.
The possibility of rain returns again on Sunday but this should be later in the day and into Monday. Along with the return of precipitation, cooler air also comes along. For the first part of the week, highs will likely be below average, in the low 40s. Overnight temperatures could drop below freezing.
With these cooler nighttime temperatures and the presence of moisture, there is a chance we could see a few snowflakes fall, especially for hilly areas. Little or no accumulation is expected long-term, since high temperatures above freezing would likely melt anything that stuck. To get the most up-to-date information about the possibility of snow, make sure to pay attention to forecasts as they come out — but at this time, nothing significant is expected.
Dry weather may return for the second half of next week. But in the meantime, enjoy the relatively calm weather. I think there may be a bit of love in the air to accompany our rain showers…
Have a great weekend and an amazing Valentine's Day!
— By Kelsie Nelson
Kelsie Nelson is a meteorologist and recent University of Washington graduate who grew up in Lynnwood and now lives in Kenmore. After writing weather blogs as a KOMO News intern, she discovered a passion for writing about weather. You can learn more in her blog www.wxnoggin.com and you can also follow her on Twitter at @kels_wx3. Questions can be directed to Kelsie at kelsie@myedmondsnews.com.