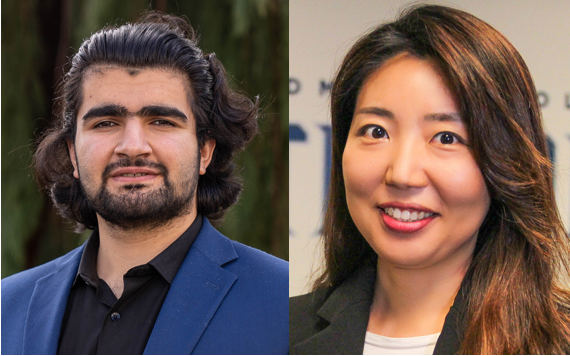 Edmonds College students Ahmad Hilal Abid and Shinhae Hwang will be honored as members of the 2023 All-Washington (All-WA) Academic Team during a ceremony at South Puget Sound Community College on April 27. Phi Theta Kappa, an honor society serving two-year colleges, selects team members based on their academic achievements and community service each year.
"Both Ahmad and Shinhae have an impactful presence on campus," said Edmonds College President Dr. Amit B. Singh. "They are excellent students in the classroom and outstanding ambassadors for the college. They have served on student government, volunteered their time in the community, and have left an indelible mark at Edmonds. They are very deserving members of the All-Washington Academic Team."
South Puget Sound Community College (SPSCC) invites the entire state of Washington to the 27th annual All-Washington (All-WA) Academic Team Ceremony. The ceremony will honor students from the state's 34 community and technical colleges. It will be hosted virtually on SPSCC's YouTube channel and the college's All-WA web page starting Thursday, April 27, at noon.
This year's team of 75 students will receive a $250 KeyBank scholarship and All-WA recognition at the ceremony. The top 16 students, as ranked by PTK, will receive an additional $750 from WSECU, and the top three will receive an additional $1,000 from the Washington State Association of College Trustees.
About the scholars:
Ahmad Hilal Abid
Abid, who emigrated from Afghanistan to the U.S. when he was 17, is passionate about volunteering and has dedicated much of his free time to making a difference on campus and in the community. In 2020, he started the House of Wisdom, a small class in his garage, to help 20 immigrant and refugee students with school assignments in math and English. The growing popularity of his services eventually led him to move to a larger space in a professional building in Lynnwood, Wash. Now, Abid has twice as many students and offers a broader array of tutoring subjects, thanks to a volunteer staff with diverse areas of expertise. His work with the House of Wisdom recently received recognition from Sen. Marko Liias on the Washington State House Senate floor.
Additionally, he has spent time with Volunteers of America and Medical Teams International, plus held numerous leadership roles on campus. He has volunteered with the Edmonds College Green Team, spent time as a campus event programmer, and is the diversity officer on the  Executive Board of the Associated Students of Edmonds College.
He was a 2023 Coca-Cola Academic Team Bronze Scholar, 2022 Governor's Student Civic Leadership Award recipient, and Presidential Student Civic Leadership Award winner.
Abid earned his Associate in Arts in June 2022 with a 3.5 GPA and is currently enrolled in the paralegal program at Edmonds College. He aims to transfer to Harvard, Stanford, or the University of Washington, where he wants to earn a bachelor's degree and attend law school.
"I am passionate about serving the community, finding the issues, and finding solutions," Abid said in his scholarship application. "I learned to speak and write English quickly, completed my math and English classes in only one and a half years, and began my college-level courses at Edmonds College. I was persistent and focused in order to achieve my goal of serving my diverse community."
Shinhae Hwang
Hwang is a native of Seoul, South Korea. She previously obtained her bachelor's in business (2007) from Korea University and master's in business administration (2019) from KAIST College of Business and worked in public relations for the Munhwa Broadcasting Company (MBC). She holds a 3.98 GPA and studies business, marketing, and administration. She plans to study law and attend Central Washington University in the fall.
Hwang has been involved in student government since arriving at Edmonds College. She worked at the Center for Student Engagement and Leadership (CSEL) and served as the financial manager and advisor for the Associated Students of Edmonds College Executive Board. In July 2022, Governor Jay Inslee appointed Hwang as the student trustee on the Edmonds College Board of Trustees.
"My parents wanted to give me a better life, so they sent me thousands of miles away to live in America. That's why I came to Seattle two summers ago," Hwang said. "When my U.S. journey began at Edmonds College, I had mixed emotions of excitement and stress. I am keeping the president's welcome letter from when I got accepted at Edmonds College. He wrote, 'I came to the United States as an international college student in the late 80s with the belief that the sky's the limit in this country.' It inspired me. I promised myself I would do my best to achieve the opportunity."