Rain didn't dampen the spirits of the 370 graduating seniors at Mountlake Terrace High School during the Class of 2023 commencement at Edmonds School District Stadium Saturday.
Associated Student Body President Laraine Sims opened the ceremony by recounting — after scrolling through her camera roll on her phone — the graduates' journey through four years of high school, starting with their first year as nervous freshmen. That transitioned into remote learning for the last part of freshman year and all of sophomore year due to the COVID-19 pandemic.
"I saw us rise above the challenge of the pandemic and come out stronger," Sims said. "And then, I saw us turn into juniors. Finally, upper classmen. We were back in class and better than ever."
Despite additional obstacles — including a month-long internet outage earlier this year — "I saw us lead the way for everyone else in the school. I am so proud of the people that everyone here has become and I will forever challenge the memories I have."
Following Sims' remarks, Senior Class President Maile Armstrong shared a list of favorite memories shared by her fellow seniors, including visits to Dick's Drive-In after track meets, planting flowers outside of the school for a leadership project, the Technology Student Association conference in Texas and building sets for "Legally Blonde."
Armstrong said she read the quotes for a reason: "They all involved two or more people." The quotes "represented something bigger than spirit or sports," she said. "They represent high school as a whole."
"Outside of the school, in the real world, the sentiment of us vs. them has never been clearer — socially, politically, economically and even educationally," she said. "The idea that we are against each other is present every day. And it's torn us apart."
The same dynamic exists in high school, Armstrong said. "We are constantly filled with the sentiment of us vs. them. We see it in the form of grading curves, schoolwide competitions and in social, grade and even educational cliques."
While such competitions are OK in moderation, "We can't forget that we are in this together," Armstrong said.
The next speaker was Jazzma Pennerman, who was selected by MTHS staff. Pennerman explained that four years ago, she and her family moved to the U.S. from the Bahamas for a better life, and she offered her thanks to the school staff and friends who helped her through high school. "We started our journey, butterflies in our stomach, the first day walking into school as little fish," Pennerman said. "Now, we end our journey as big fish. It has been a pleasure watching each of you grow and flourish with success."
Pennerman was followed by Liliana Lopez-Santiago, selected by the Honor Society to speak. She shared that in her freshman year, she wrote a letter to herself, in which she "expressed my fears for the future and questioned whether I was doing enough in the present to feel wanted by others."
While rereading the letter, she noted that "my overarching fear was whether everyone else was happy. I never once asked if the choices I were making were contributing to my own happiness."
As she was planning for her future after high school, she said that she was tempted to stay at home to be near family and friends. Instead, she chose to attend college out of state.
"I learned in order to thrive, I had to stop doing what I imagined other people would want and focus on what's best for me," she said.
"To my class, you may have made every decision in the last 13 years of school based on the expectations and desires of other people around you. With all the people-pleasing you do, have you ever considered the choices you make are for you? Whether you are sitting on the field or up in the stands, I hope you will trust that the future is for you to decide," Lopez-Santiago said.
The next two speakers were selected by the senior class.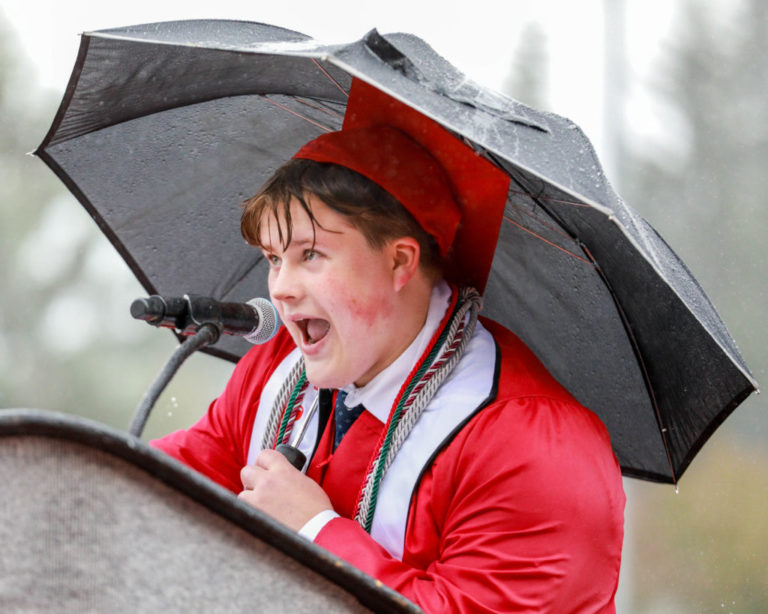 "We were the class that never got a full high school experience, but that never stopped us from trying," said the first speaker Ryan Daly, a familiar voice to his fellow students for delivering the daily school announcements. "This class, this community should all feel great about what you've already been able to accomplish. We went through a pandemic in one of the most important developmental times in our lives, and yet here we are, graduating."
"My name is Ishah Musa," the next speaker began. "I'm a Muslim, hijab-wearing, first-generation Afghan American." Noting that her parents immigrated from Afghanistan and worked hard to ensure their children had a better life, Musa said: "So inspired by my parents, I stand here and tell. you to find your power and with that power, run. And with that power, make sure you fight to make changes. Because it's not about what the power is, it's about how you use it."
The final two speakers  — Yash Verma and Zoe Teran — were selected from among the school's class valedictorians.
"One of your main goals as individuals should be to truly find yourself, whether that be career-oriented, emotional or in relationships," Verma said. "You can do whatever you want to do. You can be whoever you want to be in life. Put the dedication and work in and it will pay off. The goal in life is not to live forever, but to create something that will."
When it came her time to speak, Teran shared that she was a mediocre student in middle school, but promised herself to do better in high school. She developed strong study habits and saw the results, acing her finals during her freshman year. Whether it's flossing your teeth, eating healthier or choosing friends who care about you, "It's the choices you make to keep up your good habits and start new ones that make you better and happier," she said. "Choose to love yourself. Choose to be happy and make other people happy. Choose to break the cycle. Because at the end of the day, you are the one who needs to choose."
— By Teresa Wippel