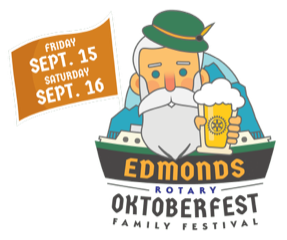 Join us in Edmonds Sept. 15-16 for the third annual Edmonds Oktoberfest. Sponsored by The Rotary Club of Edmonds, your participation will help us raise funds for local nonprofits. We aim to create a fun and festive atmosphere for the whole family where guests can enjoy a variety of food, an eclectic mix of musical performances, games, a Kids Korner and a Pet Parade.
The Edmonds Oktoberfest is taking place at the Frances Anderson field, 700 Main St. in downtown Edmonds. The Beer Garden will open at 3 p.m. on Friday, Sept. 15, featuring beer, wine and cider. A variety of food trucks will be serving family-friendly refreshments. Live music will entertain till 9:30 p.m.
Special Family Friends Events on Saturday
On Saturday, Sept. 16, Oktoberfest will feature lots of entertainment for the whole family with Kids Korner running from 11 a.m. to 5 p.m. The ever-popular Pet Parade returns to Oktoberfest on Saturday. The parade begins at noon and requires registration to participate. For early registration, details about the parade, and a list of prize categories, visit the Edmonds Oktoberfest website and click on the Pet Parade icon.
Edmonds Oktoberfest Beer Garden Featuring a Variety of Drinks and Music
This year's beer garden will feature a dozen beers, and many local breweries will be represented. Along with popular Oktoberfest-type beers, there will be wine, cider and non-alcoholic refreshments. The Edmonds Oktoberfest will also have local food trucks offering a variety of yummy-tasting food and treats.
Live music will be performed on Friday and Saturday with a variety of music styles — from traditional Oktoberfest tunes to classic rock favorites. For a complete line-up of the bands and their performance times, visit the website and click on the Band Schedule icon.
Admittance to the Beer Garden requires you to be 21 years of age or older There is a $10-per-person entry fee.
Edmonds Oktoberfest: Fun for All and Generates Financial Resources for Local Nonprofits
So bring your family and friends and get ready to have a great time at this year's Edmonds Oktoberfest. Remember, proceeds will support local non-profits so your attendance will help the entire community.
About the Edmonds Rotary
Rotary is an international membership organization made up of diverse groups of people who share a passion for and commitment to enhancing communities and improving lives across the world.