Behind The Mask, by Dana Ridenour
Undercover FBI agents know the mask must stay in place until the assignment is done. Lives depend on it, especially their own. Special Agent Alexis Montgomery, or Lexie, is fresh from her training in Virginia and on her first undercover case across the country in Los Angeles. Now she's under the gun, living under an assumed identity, and infiltrating a dangerous cell of the Animal Liberation Front.
As Lexie goes to work connecting with ALF members, she begins to realize the emotional depths of this work. Over time, she's building friendships with suspects. She's being pulled into some of their beliefs as she sinks deeper into their lives. She's filled with self-doubt over the betrayal her work requires of her. The job calls for Lexie to build relationships in order to betray relationships. Is that something she can do to her new friends? If not, what danger will then surround her?
While on the job, an undercover agent like Lexie — who lives for an extended period in isolation from her real life — learns about the loneliness, high stress, and desperation that is found Behind The Mask. Even her inside-the-FBI contact agent Kate is a new friendship for Lexie, and they have a lot to learn about each other.
An opportunistic meeting with Savannah, a freshman at the college, convinces Lexie she may have found the key to connecting with the dangerous group the FBI suspects of domestic terrorism. The connection with Savannah leads to key actors Nick and Haley, but also brings a devastating dilemma. Lexie and Savannah quickly became fast friends, true best friends. This sincere relationship could be an Achilles' heel to the whole FBI operation, or could Lexie turn it into the key to prosecution? Will Lexie have to betray Savannah to get what she wants and if so, how will Savannah and her fellow ALF members react to that?
Author Dana Ridenour creates a thrilling, psychological puzzle with great, unexpected twists. The plot includes fascinating insights into the pressures and perils of an undercover agent's job. This first book in the Lexie Montgomery FBI series is a fast-paced read that still takes time to explore the multidimensional personalities of the characters and their relationships with each other.
Dana Ridenour is an award-winning author and retired FBI Special Agent. During her 20-year career, she was assigned to four different FBI Field Divisions and had the opportunity to work a wide variety of cases to include multifaceted narcotics investigations, domestic sex trafficking of minors, and violent crime. She spent most of her career as an FBI undercover operative.
Dana's first novel, Behind The Mask, won numerous literary awards and was named one of the Best Indie Books of 2016 by Kirkus Reviews. Her second novel, Beyond The Cabin received the 2018 Royal Palm Literary Award for Best Thriller or Suspense Novel. The third book in the FBI undercover series, Below The Radar, was the 2020 Readers' Favorite Gold Medal Winner in the Fiction – Thriller – Terrorist genre as well as the 2021 Feathered Quill Book Awards Gold/First Place winner for best Adult Fiction. Dana's three novels are currently in development for television.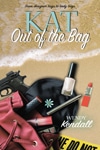 — By Wendy Kendall
Wendy Kendall is an author with The Wild Rose Press. Her mysteries include Kat Out of the Bag and the prequel Purse-Stachio Makes A Splash. Her newest ebook is Snow Kiss Cookies To Die For.