The Misadventures of a Cross-America Kayaker, by Hank Landau
From deep within yourself, have you ever heard a voice dare you to attempt what may be most wild, crazy, perilous, beautiful experience imaginable? Join the author who answered yes. Hank Landau jumped into a seven-year soulful and challenging journey of a lifetime. He paddled over seven years across 4,700 miles on 19 waterways and rivers, six of them going upstream. He touched 17 states, starting at the Pacific Ocean and ending at the Atlantic.
Reading his epic escapade, his close encounters are sometimes laugh-out-loud funny, and sometimes dangerous and downright scary misadventures. What began as a question ended in complete wonder over all that this one kayaker learned.
This book is a beautiful tale of discoveries, now shared with daredevils and dreamers. It's a telling of discoveries from a lone, thoughtful kayaker about his world environment, with an insightful and historical perspective about humanity. Each chapter and each page reveals your opportunity to taste the great outdoors from one coast to the other. The emotions spill off the pages, and the love and support of the kayaker's family throughout is also stirring.
The author's writing style is so engaging, you'll feel as if you're riding right along with him. Seize this opportunity. You'll not just read about these travels, you'll experience the beauty, the questions, the solitude, the camping stops, the dangers, the excitement, the humor and so much more. The large, wide world is full of surprises that need to be faced as they burst upon the scene. It's also full of miles of serenity and beauty, prompting creative reflections on life itself.
Woven into this incredible story are references to the history of so many of the locations traveled through. The simplicity and dynamics of seeing life from the kayak as a vehicle, brings historical comparisons filled with meaning. His reflections on the impacts of civilization on the environment, and of society on people are truly thought-provoking.
Author Hank Landau spent a lifetime messing about in power boats, sailboats, rowboats, canoes and kayaks. He attended the U.S. Coast Guard Academy, where he sailed on the Coast Guard square-rigged ship Eagle and served as an Army officer during the war in Vietnam. Later in his career, Landau — who has a PhD in civil environmental engineering — worked in the geo-environmental field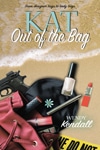 — By Wendy Kendall
Wendy Kendall is an author with The Wild Rose Press. Her mysteries include Kat Out of the Bag and the prequel Purse-Stachio Makes A Splash. Her newest ebook is Snow Kiss Cookies To Die For.