Eleven wrestlers from the Edmonds School District competed in Mat Classic XXXIV held at the Tacoma Dome Feb. 17-18, but only one — Lynnwood High School's Dylan White — would place.
White, a senior, finished sixth at 285 lbs. White advanced to the quarterfinals before losing and battling back through the consolation bracket.
Other district wrestlers who competed at state were:
Edmonds-Woodway High School's boys team members AP Tran – 113 lbs, Liam Fitting – 152 lbs and Evers Yamada – 160 lbs  and girls team member Grace Fitting – 130
Lynnwood High's Kayden Richman-Myers – 138
Meadowdale High's Maddox Millikan – 120
Mountlake Terrace boys team members Jack Bode – 132 and Koby Sedy – 160 and girls team members Marylyne Obare – 115 and Rosechele Obare – 120.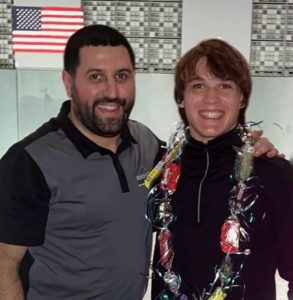 Edmonds-Woodway senior Liam Fitting, who has 4.0 GPA, won the 3A Academic State Championship at 152 lbs.
— By Mike Cooper