A busy second day for Edmonds School District student athletes at the WIAA State 2A/3A/4A Track & Field Championships in Tacoma ended with plenty of smiles and memories, plus medals for podium placements in three events on Friday.
Edmonds-Woodway Warrior Lucy Bartron earned a sixth-place finish in the 3A Girls Discus final with a toss of 111-05; teammate Becca Hershey took home a second-place medal in the discus throw for ambulatory athletes.
Lynnwood's Porsche Robinson grabbed the eighth-place medal in the 3A Girls 100 Meter Hurdles final with a time of 16.00.
Other athletes from Lynnwood, Meadowdale and Mountlake Terrace High Schools won their way into various finals' events after qualifying efforts in their preliminary events on Friday. Royals' Zaire Griffin, Jordan Whittle, Trent Whitehead and Shayden McIntyre in addition to Meadowdale's Tresley Love and Mountlake Terrace's Brynlee Dubiel, will be competing in event finals on the state meet's final day on Saturday.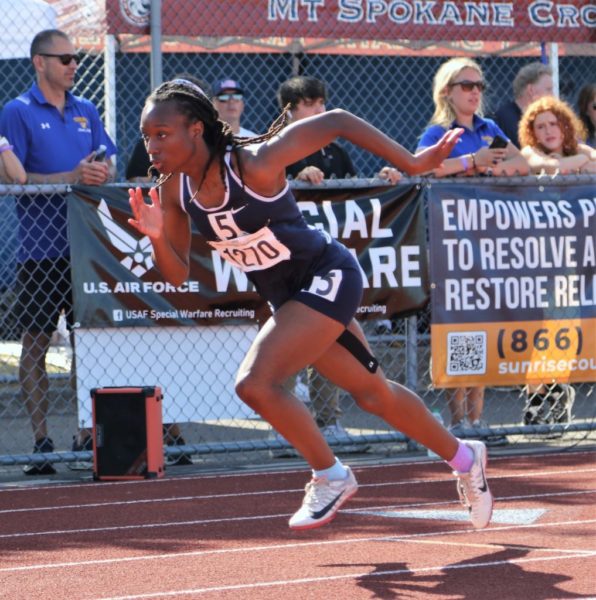 Prep Track: WIAA State 2A/3A/4A Track & Field Championships Day Two results, May 26 (Edmonds School District teams and athletes)
– Lucy Bartron (Edmonds-Woodway); 6th place in 3A Girls Discus final (111-05)
– Porsche Robinson (Lynnwood); 8th place in 3A Girls 100 Meter Hurdles final (16.00)
– Becca Hershey (Edmonds-Woodway); 2nd place in 3A Girls Discus Ambulatory final (32-10)
– Tresley Love (Meadowdale); 3rd place in 3A Girls 400 Meter preliminaries, 12th place in 3A Girls 100 Meter preliminaries and 15th place in 3A Girls 200 Meter preliminaries (26.43); qualified for 3A Girls 400 Meter finals on Saturday (defending state champion in this event)
– Zaire Griffin, Jordan Whittle, Trent Whitehead, Shayden McIntyre (Lynnwood); 4th place in 3A Boys 4×100 Meter Relay preliminaries (42.31); qualified for 3A Boys 4×100 Meter Relay final on Saturday
– Zaire Griffin (Lynnwood); 5th place in 3A Boys 100 Meters preliminaries (10.84), 7th place in 3A Boys 200 Meters preliminaries (22.37) and 16th in 3A Boys Long Jump (20-04.50); qualified for 3A Boys 100 Meter final and 3A Boys 200 Meter final on Saturday
– Brynlee Dubiel (Mountlake Terrace); 8th place in 3A Girls 300 Meter Hurdles preliminaries (16.50) and 17th place in 3A Girls 100 Meter Hurdles preliminaries (16.50); qualified for 3A Girls 300 Meter Hurdles finals on Saturday
– Jordan Whittle (Lynnwood); 8th place in 3A Boys 200 Meters preliminaries (22.39) and 17th place in 3A Boys 400 Meters preliminaries (51.47); qualified for 3A Boys 200 Meter finals on Saturday
– Rachel Elliott (Lynnwood); 12th place in 3A Girls 800 Meters preliminaries (2:18.87); did not qualify for finals
– Eliana Bonilla Zuniga, Brynlee Dubiel, Emmalynn Kuenning, Allison Mervin (Mountlake Terrace); 12th in 3A Girls 4×100 Meter Relay preliminaries (50.24); did not qualify for finals
– Ever Yamada (Edmonds-Woodway); 13th place in 3A Boys 300 Meter Hurdles preliminaries (40.79); did not qualify for finals
– Ashley Lara (Lynnwood); 13th place in 3A Girls 400 Meters preliminaries (1:00.47); did not qualify for finals
– Allison Mervin (Mountlake Terrace); 14th place in 3A Girls Long Jump (15-11.75) and 19th place in 3A Girls 100 Meters preliminaries (12.88); did not qualify for finals
– Naomi Limb (Edmonds-Woodway); 17th place in 3A Girls 200 Meter preliminaries (26.54) and 20th place in 3A Girls 100 Meters preliminaries (13.09); did not qualify for finals
– Ena Dodik (Lynnwood); 17th place in 3A Girls Discus finals (95-08)
– Eliana Bonilla Zuniga (Mountlake Terrace); 17th place in 3A Girls 400 Meter preliminaries (1:01.88); did not qualify for finals
– Kaeen Eban, Ever Yamada, Jesse Hart, David Danyo (Edmonds-Woodway); 18th place in 3A Boys 4×100 Meter Relay preliminaries (43.38); did not qualify for finals
– Calvin Hume (Mountlake Terrace); 19th place in 3A Boys 300 Meter Hurdles preliminaries (42.25); did not qualify for finals
– Mason Hrcek (Mountlake Terrace); tied for 19th place in 3A Boys Pole Vault finals (NH)
— Story and photos by Doug Petrowski