The Mountlake Terrace Hawks' boys basketball team players and coaches are sure to take away many fond memories from this season — but the fourth quarter of their 3A state tourney matchup against the Bellevue Wolverines on Friday will likely not be one of them.
Closing out the game on an 11-3 run, the Wolverines came from behind to defeat the Hawks 50-46 in a WIAA 3A Boys State Basketball Tournament loser-out contest played at the Tacoma Dome.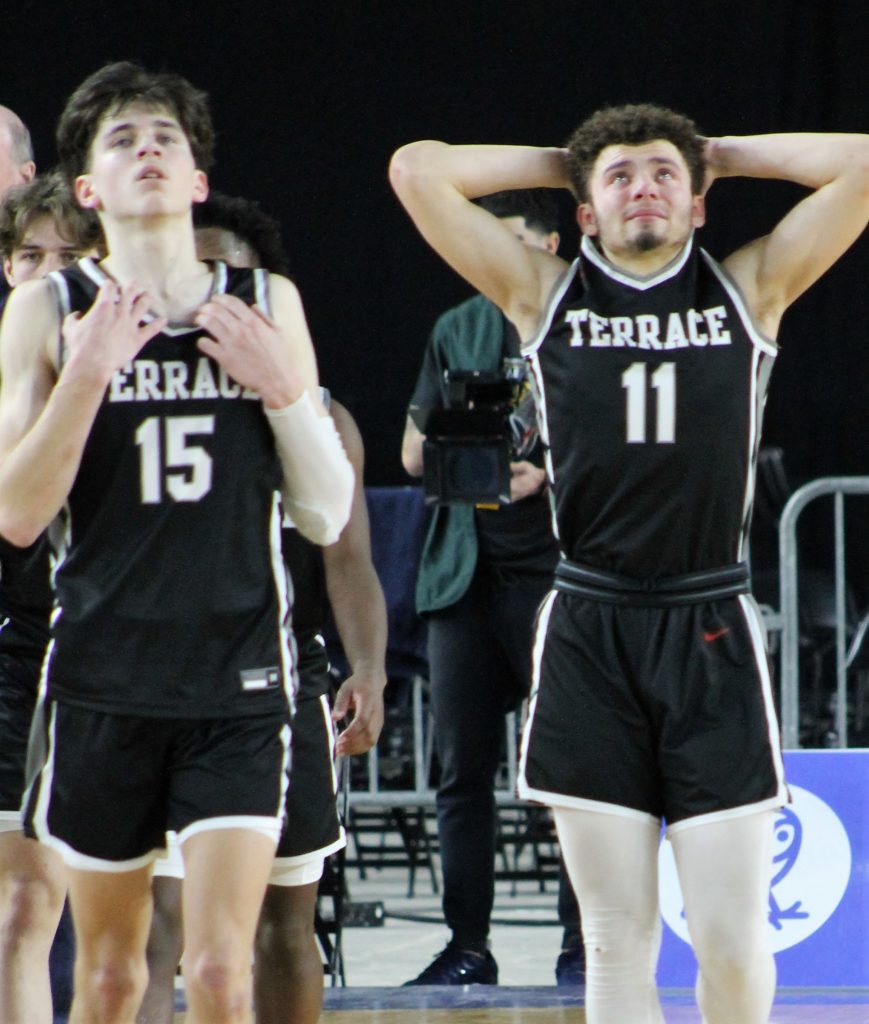 The defeat not only ended the No. 6-seeded Hawks' run in the state tournament, it concluded their 2022-2023 season on a negative note.
After yielding only three points to the Wolverines in the third quarter, Terrace found themselves up 41-32 early in the fourth. But that lead slowly got whittled away as Bellevue took advantage of numerous Hawk miscues and turnovers down the stretch.
"Great job in the third quarter: held them to three (points) and we got it right where we wanted it," Terrace Coach Nalin Sood said postgame about his team's performance early in the second half. But he then enumerated the many factors that led to his team's downfall.
"Credit to (Bellevue): We didn't stop them, we didn't take care of the basketball, they made some key shots, we rotated some defenses and (we) got out of position a couple of times."
Despite the Hawks' final-quarter struggles, the team did grab a 45-43 lead on a Svayjeet Singh offensive rebound and putback with 2:31 remaining in the game. But Bellevue's Alex Yu answered with an offensive rebound and bucket of his own with 1:55 to go. Then, after a Terrace turnover, the Wolverines' Blane Stauffer drained a 3-pointer with 1:22 left, giving Bellevue a 48-45 advantage.
Bellevue's Kenyan Jackman-Thomas could have added to the lead with 26.2 seconds to go, but the junior missed the front end of a one-and-one opportunity from the foul line, giving Terrace one last chance to erase the three-point deficit. Junior Zaveon Jones was fouled by Jackman-Thomas with 6.1 seconds left; Jones converted the first free throw attempt but was called for a lane violation on the second try.
With the Wolverines now possessing the ball, the Hawks were forced to intentionally foul to stop the clock. With 4.8 seconds to go, Bellevue's Brady Kageyama sank two free throws, pushing the score to 50-46 and leaving Terrace with only enough time for Jaxon Dubiel to launch a half-court heave that missed the mark and ended the game.
A fourth quarter that included many of the Hawks' 19 total turnovers in the game left Sood introspective.
"I should have had them better in tune to what we needed to do there at the end," Sood said. "The buck stops somewhere and it's disappointing. You do self-reflection on what you could have done better."
Kageyama led all scorers in the game with 21 points; the Wolverine senior guard sank four of eight attempts from beyond the 3-point arc. That was twice as many 3-pointers as those made the entire Hawks' team, which was just two-of-10 from 3-point land.
With the victory, Bellevue — the No. 10 seed in the state tournament, will play No.3-seeded Eastside Catholic in the tourney's fourth/sixth place game Saturday morning.
Dubiel paced the Hawks with 17 points; Jones contributed 15 points and Chris Meegan added 10 points in the defeat.
The loss concluded a Mountlake Terrace season that included 19 wins, the 3A Wesco League regular season title, the District 1 championship, a berth in the 3A state tournament and a trip to the Tacoma Dome.
Friday's defeat also afforded Sood a chance to reflect on the year. "We're disappointed with today's game but we're proud and really fortunate to work with a group like this," he said.
"What a year they had," Sood continued. "For four months they got better and better and better. We got done losing in the end of December by 20 to Lynden Christian and who would have ever guessed this team would have been in the final eight back-to-back two years in a row in what I say is the toughest classification in the state."
Last year's Terrace team finished sixth at the 3A state tournament.
Friday marked the end of the prep careers of three Terrace seniors on this year's squad: Meegan, Nic Sylvester and Andrew Delgadillo.
It will be the bonding with his teammates, especially during the state tourneys from this year and last, that Meegan said he would remember the most from his time playing Terrace basketball.
"This is my favorite memory — being here, experiencing this with these guys," he said. "The times we had in the locker room and the hotel, chilling with the guys, eating dinner … that to me is just a little more important that even how we played on the court."
Sylvester and Delgadillo both spoke highly of their time in a Hawk uniform, especially during their senior year.
"It was an amazing season," said Sylvester. "And for me, as a senior, it was an amazing experience and I wouldn't have traded it for anything."
"It was so amazing," echoed Delgadillo. "So many great guys. I'll remember them forever; they're just incredible. The coaching staff was incredible; the program is amazing. It sets you up for life. It's unforgettable."
Sood praised his three seniors for their contributions to the Terrace basketball program.
"Nic and Andrew, they're just unbelievable young men," Sood said. "You never hear anything said negative; they accepted their role and they're such a vital part of our success."
"And Chris, how far he's come in four years," Sood continued. "A young man and a basketball player — I thought he was an OK little freshman and he ends up Second Team All-(Wesco) League and a key player for us. And he got to start two years in the state tournament in the final eight. That's pretty remarkable what he's done."
To view the entire WIAA 3A Boys State Basketball Tournament bracket, click www.wpanetwork.com/m2/tourn.php?act=vt&tid=3795. 
Prep Boys Basketball: Mountlake Terrace vs Bellevue., March 3 (WIAA 3A Boys State Basketball Tournament consolation loser-out game)
Terrace 16 10   9 11 – 46
Bellevue 15 12   3 20 – 50
Mountlake Terrace individual scoring: Jaxon Dubiel 17, Zaveon Jones 15, Chris Meegan 10, Svayjeet Singh 2, Logan Tews 2, Rayshaun Connor, Talan Zenk, Andrew Delgadillo
Bellevue individual scoring: Brady Kageyama 21, Andrew Gooding 8, Bryce Smith 7, Kenyan Jackman-Thomas 6, Alex Yu 6, Nicolas Norrah 2, Graydon Ball, Orhuh Dakad, Blane Stauffer
Records: Mountlake Terrace 19-8 overall; Bellevue 24-5 overall
Mountlake Terrace next game: 2022-2023 season completed
— Story and photos by Doug Petrowski