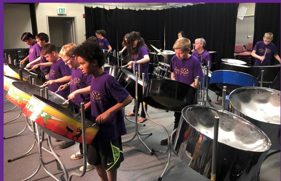 Outdoor activities — the fun, local and free variety — were all I had planned on covering this week. While we will most definitely get to them, I have got to cover Summer Music School put on by the Edmonds School District and Steel Magic Northwest, which offers a Steel Drum elective at SMS. My kids just finished up another round of SMS. My oldest was a first-time high school volunteer after starting SMS as soon as he was eligible age-wise (students heading into the 6th grade with one year of music instruction, with the occasional younger student with the requisite music experience). SMS returned last summer after a few sessions were lost to COVID and this was their first time marching in the Edmonds Kind of Fourth parade since 2019.
At the end of SMS, there is an evening concert followed by an elective concert on the last day. Each day, SMS students participate in an all-school choir, their specialty of choice (band, orchestra and now choir), and two electives they choose from. The options include trying out new instruments, ukulele, marimba, musical theater and many others. The main concert features the main three branches — band, orchestra and choir — with the elective concerts serving as a way to showcase what they've covered in their electives.
I am impressed every single year how quickly the camps learn their parts, new instruments, etc. and also how the friendships form. The high school volunteers join the teachers and college-age staff to teach, guide and wrangle campers as some of them change classes for the first time. I have been appreciative of the high school volunteers as they supported my kids in years past. I now appreciate it from another perspective, as an opportunity to gain experience, be involved in teaching and — since that's where we're at now — something to add to a college application.
Steel Magic Northwest's elective, taught by Executive/Artistic Director Gary Gibson, always provides the surprise the parade does. Both culminate in kids quickly learning things that seem impossible to get the hang of in double the time. They are offering two different weeks of camp this summer, which they call "summer intensives." These sessions are "appropriate for beginners just starting, and intermediate players wanting to maintain their skills over the summer." As far as age requirements are concerned, the  intensives are for kids entering the sixth grade and up, but they will accept kids entering the fifth grade "if they have high musical interest and some instrumental experience (such as piano or guitar lessons)." The two summer intensives will be at Edmonds Adventist Church on 196th Street in Edmonds July 17-21 and Aug. 7-11. Both weeks are Monday through Friday from 1:30 to 4 pm. For more information and registration, you can visit SteelMagicNorthwest.org.
Ok! Let's get to the outdoors. The City of Edmonds is offering a low tide beach walk, interpretative programs and storytime with a mermaid!
There is an upcoming low tide beach walk that is free and doesn't require registration — Sunday, Aug. 13 at 9:30 a.m. It begins at the Olympic Beach Visitor Station, which can be found at the base of the Edmonds Fishing Pier, and is open to all ages. Those in attendance will "learn about the plants and animals that live in the marine sanctuary, and how you can safely interact with them while protecting their habitat." This program runs rain or shine and they suggest waterproof boots and weather-appropriate dress.
There are also two interpretive programs at the Olympic Beach Visitor Center on deck. The first is the Fantastic Crabs Interpretive Program on Saturday, July 29 from 1 to 3 p.m. While interacting with live specimens collected by a ranger-naturalist, attendees will learn "how to identify the seven most common species found in our beach parks" and about their life history and the adaptations they've made. The next program will be held Saturday, Aug. 26 and cover fisher birds. We have belted kingfishers in the area and one of the exciting things about them to me is that the female gets more color than the male in this species!
Near a different shore there is another interpretive program. Owls of Edmonds Interpretive Program will beThursday, Aug. 10 at Mathay-Ballinger Park. Those who visit the table can learn all about our owl neighbors as ranger-naturalists show you the animals' "unique adaptations such as binocular vision, silent flight, and asymmetrical ears." If one park isn't enough, while out for this event you can drive about five minutes to the newly opened Hazel Miller Universally Accessible Playground at Ballinger Park.
Right on time for a renewed obsession with The Little Mermaid, you can have a real-life mermaid encounter at Marina Beach on Saturday, Aug. 5 at 10 a.m.. At the beach! Mermaid Madrigal offers a special storytime where there will also be "a special hands-on interpretive program 'All About Seaweed' with the Edmonds Beach Rangers after the story." Costumes, "merfolk, a pirate or your favorite sea creature" are "highly encouraged" and all ages are welcome to this event, which is free and does not require registration.
For information on all of the above Discovery Programs, you can visit EdmondsWA.gov.
— By Jennifer Marx
Jen Marx, an Edmonds mom of two boys, is always looking for a fun place to take the kids that makes them tired enough to go to bed on time.