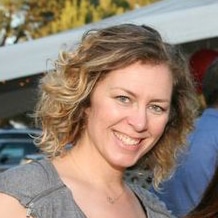 During Art Walk Edmonds this week, one of the stops I made was at the Edmonds Bookshop. The window display was full of moon-themed books, including some great options for the space-loving little ones in your life and the shop was set up for a conversation between authors.
When in the bookshop, I typically end up taking in the themed displays, peek at the birding books, and then head back to the kids section. This visit I found out that Max Brooks, author and son of Anne Bancroft and Mel Brooks, writes Minecraft books! It feels impossible that I didn't already know this, and also very possible that I did know this and then forget. I also found out that Max Brooks is dyslexic, if you're looking for some inspiration for the dyslexic learner in your family. Edmonds Bookshop had two Minecraft books by Max Brooks and the one I googled, Minecraft: The Mountain, was listed for those ages 10 and up by Penguin Random House.
While we don't have anyone in the house in the market for this age book anymore, Minecraft is still alive and kicking on several of our devices. For more information on Edmonds Bookshop events or to shop online, you can visit EdmondsBookshop.indielite.org. For information on the next Art Walk Edmonds, including a map of locations, you can visit ArtWalkEdmonds.com.
This week, let's talk about some school info, including important kindergarten dates, Running Start, and a workshop on how to make a nest box for the bees in your yard.
The most recent Edmonds School District News email has a lot of useful info in it. To start, they shared the key dates for the next few school years. You can find those dates on Edmonds.wednet.edu. These dates are particularly helpful if you have incoming kindergarteners, with Jumpstart and Family Connection Meeting dates, and turns out might make you feel a little weird if you have a high school graduate during that time period. The Kindergarten page on the ESD website says that they will take registration for the 2023-24 school year starting on Feb. 24.
The news email also shared that the district is offering school-based dental sealants for second- and third-grade students at 12 local schools. Those who choose to participate are eligible for a free dental screening for oral diseases and dental sealants, which are used to prevent cavities. The clinics will be held in February and March for interested students at Beverly, Cedar Valley, Cedar Way, Chase Lake, College Place, Lynndale, Lynnwood, Martha Lake, Meadowdale, Mountlake Terrace, Oak Heights and Spruce elementary schools. If you are interested in this program, your school will provide the consent forms and any additional information.
While we're talking about school, the Peach Jar eflyer email we got included information about Running Start through Edmonds College. There will be two Running Start Family Nights via Zoom in February. On two Wednesdays — Feb. 8 and 15 from 6 to 7 p.m. — you can learn how "students can earn tuition-free college credits while meeting high school graduation requirements." We know multiple students in Running Start and they each seem to enjoy the option. In fact, one student who was at my house fielding my questions about it, really got my attention when he told me about his schedule, which did NOT include a 7 a.m. start time. You can find more information, including a program overview video and registration for the Running Start Family Night, at Edmonds.edu.
Sometime this summer, in my quest to get certain birds to visit my backyard, I learned about Go Natives! Nursery in Shoreline. I have since been back a few times since it is always a fun experience. They are located on the lot of a home in Shorelin,e which has an incredible view from the street parking and a shady front yard where I stood and got a lot of help picking my bird-friendly options.
Per their website, Go Natives! provides "Pacific Northwest plants for butterflies, birds, bees and critters." They are offering a Bee Workshop, which they describe as "great" for kids, on Jan. 28 from 10 a.m. to 2 p.m. The workshop, led by professional horticulturist and Edmonds College instructor Ingela Wanerstrand, will cover how to provide food and shelter for native bees. Participants will be making mason bee and bumblebee nest boxes to take home. The $20 workshop fee includes mason bee cocoons for you to start your own nest box, supplies for either nest box option, and hot drinks and snacks. Go Natives! Nursery is located at 2112 N.W. 199th St., Shoreline and you can RSVP for this event at GoNativesNursery.info@gmail.com or by calling the nursery at 206-799-1749.
— By Jennifer Marx
Jen Marx, an Edmonds mom of two boys, is always looking for a fun place to take the kids that makes them tired enough to go to bed on time.