In a Tuesday Edmonds School Board meeting lasting over six hours, hundreds of students, parents, alumni and community members aired their dismay about proposed cuts to the Edmonds School District 2023-24 budget. Despite cramming three rooms to capacity, a sizable number of protesters weren't able to fit inside the district's Administrative Services Building and had to stay outside. Before the meeting began, more than 140 people had signed up to speak. School board members had also received over 200 emails the week prior to the meeting, when it was revealed that the budget was being cut by an estimated $15 million. 
Protesters made signs and wore red in support of the teachers facing pink slips or reductions in hours, and programs and classes that the district intends to cut in the next school year, including music, art and career and technical education (CTE). Band and orchestra students from across the district used music as their voice, their melodies growing so loud that they could be heard from inside the main meeting room. As for why the district hadn't held the meeting in a larger space, District Superintendent Rebecca Miner stated that the recording equipment for the meeting could not be moved.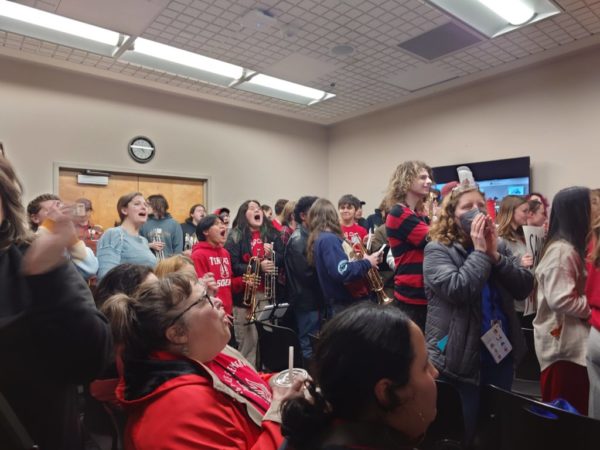 The meeting officially began with an hourlong presentation from Executive Director of Business and Finance Lydia Sellie outlining causes for the declining budget, historical data and circumstances that prompted the proposed cuts. Board President Nancy Katims was recovering from COVID-19 and attended the meeting virtually, so Vice President Deborah Kilgore ran the meeting.
According to Sellie, the biggest factors reducing district funding are: 
Declining student enrollment.

The end of state funding put in place during the COVID-19 pandemic, which had allowed schools to maintain the same level of funding despite enrollment numbers dropping. 

The end of federal funding from pandemic assistance programs.

Salary adjustments based on inflation and contractual commitments that are not fully funded by the state.
A total of 87% of the district's funding is spent on salaries and benefits. The remaining 13% is spent on supplies and operating costs such as water and electricity. Additionally, the budget is not solidified as pending state legislation could have an impact on the final figure. It was noted that the state legislation now being considered would likely only increase funding for special education programs.
In the 2019-2020 school year, Edmonds School District enrollment reached 20,841. Since then, the district has lost 985 students and enrollment is now at 19,856. The district estimated an enrollment decline of 150 additional students by the start of the 2023-2024 school year. This decrease reduced the budget by $11.9 million — the majority of the funding shortfall. In addition, the district is seeing the end of several state and federal grant programs. These "no-fault" funds were designed to reduce the impact of the COVID-19 pandemic on school budgets.
Much of the staffing conversation during Tuesday's meeting involved the use of the term "FTE", meaning full-time equivalent.
When referring to teachers, one class is .2 FTE. Teacher positions will be cut by 49.65 FTE, though that does not reflect expected resignations and retirements. The district estimates the figure will be closer to 46.55 FTE. 
Some teachers may be laid off entirely while others may see their hours cut and workload expanded to cover for staffing losses. Educational staff associates such as school counselors and nurses will lose 3.1 FTE. According to Sellie's presentation, for every 1.0 FTE, the District must fund $27,000 so a loss of 46.55 is roughly equivalent to $1,256,850 in teaching cuts.
Four administrative positions will be eliminated and superintendent benefits will be reduced. Administrative cuts total $888,000. 
Classified employees include job types such as security officers, student intervention coordinators, paraeducators, custodians, health screeners, preschool employees and more. These classified staff cuts are equivalent to $5,743,000.
All districts in Washington state have kept track of unassigned funds since 2014 and the district stated its unassigned fund balance is being used to offset a $8.9 million deficit from the 2022-2023 school year. As those funds are not sustainable, the school district plans to make revenues and expenditures equal for 2023-2024.
The district has already made plans to offset some of the funding losses, including the following:
The Woodway Center, which housed kindergarten and preschool classes while nearby schools were overcrowded, will close in June. 

Using money from a past technology levy approved by voters, the district can provide half a day's worth of technology training without using money from its budget.

The district will be making changes to the preschool model. While maintaining case managers for students on IEPs (Individualized Education Programs), the district will be providing professional/technical staff in lieu of certificated general educators.
"As Lydia said, we're reducing by about $15 million, which is 4% of our budget," School Board Director Gary Noble said. "Actually that is really, really good. That is the lowest amount of reduction of any school district in our area." Noble then pointed to other nearby districts also losing significant chunks of their budget. 
| | | |
| --- | --- | --- |
| Name of School District | Student Population | Decrease in budget |
| Northshore | 22,000 | $21M (5%) |
| Everett | 20,000 | $28M (7%) |
| Mukilteo | 15,000 | $20-25M (6-8%) |
| Shoreline | 8,900 | $18-19M (10%) |
| Seattle  | "A little less than 3x our size" | $131M (11%) |
| Bellevue | "About our size" | $31M (8%) |
"It's horrible," Noble added. "It's a lot of hard reductions but the difference is these other school districts have published their deficits but they have not let their community know what programs are being reduced and the results of those.". 
After the presentation ended, public commenters of all ages were called in groups of five and given three minutes each to be heard. The board would not be answering public comments that same day, so speakers came one by one for over five hours. Outside, a staff member called names through a megaphone so individuals signed up to comment could do so. 
Many people pleaded with the board to reconsider, citing studies and their personal anecdotes of how their education in music or computer science helped them mentally, emotionally and academically. Others lambasted the board for its choices to eliminate elective classes to preserve its savings. 
Many attendees decried cuts to the performing arts. A total of 17.2% of secondary music FTEs were cut across the district — most in high schools but a portion in middle schools. District  music programs have won awards across the state and U.S.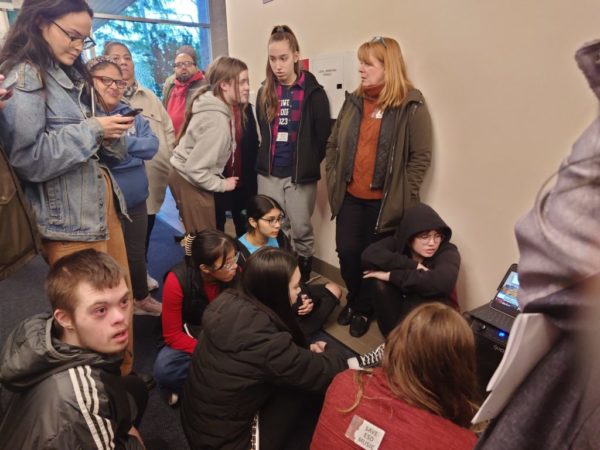 Among the comments:
"We are here because the band program is important to us, because it's made a community for so many of us."
"Music was a lifesaver. Even remotely, being able to practice with his peers was the highlight every day."
"Students highly engaged in music were on average, academically one year ahead of their peers." 
"Last year, I was in a major car accident which broke my neck, my back, my ribs, my sternum… It was a very rough place to be. My grades started to slip because I couldn't keep up in class and I felt like, for a large part, my life was over…The thing that saved me, as many others have said today, the music program. I found a way to play my instrument even with my physical injuries and it gave me a purpose and a path forward." 
District alum Emmalee Dalos said that her time spent in jazz class sparked a lifelong love for music. "A lot of my friends in high school were made in jazz. It provided a community that I had never really experienced in school before," she said.
"My STEM program is not just about the career skills that we teach," said Mountlake Terrace High school senior Emily Olven. "We also teach a lot of problem solving, teamwork, collaboration and other skills necessary. There's a lot of confidence built in students in my program and there is nothing that a school can offer more than that to someone who needs to be ready for the outside world." Olven said that career and technical education program cuts would mean the school would lose one of its four STEM teachers and most of its STEM classes. She followed with a list of classes being cut from the school, such as American Sign Language, photography and the arts. The school also stands to lose its only choir.
Jillian Wellington, a school counselor at Edmonds-Woodway High School, emphasized the importance of all students having access to resources. 
"I am most concerned with the elimination of the school social worker position," she said. "With this cut, you are eliminating critical mental health support for our students. The social worker is the only staff member with the training, skills and capacity to provide mental health care and case management to complex students. Our social worker reports that at least 70% of the students on her case load are students of color. When you eliminate her role, you eliminate care for students of color, which will perpetuate the opportunity and achievement gap." 
The proposed budget cuts, titled the 2023-24 Reduced Educational Program, can be found on district website. There is also a Q&A, which the district intends to use to address the most common questions it heard Tuesday night. 
–Story and photos by Jasmine Contreras-Lewis