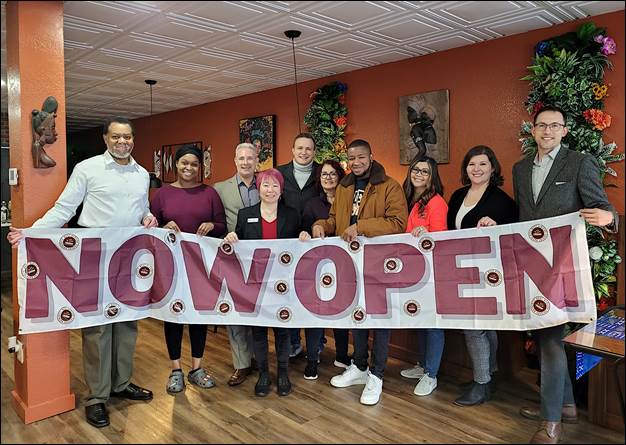 Mayor Kyoko Matsumoto Wright led a ribbon-cutting ceremony Friday for Hadiani African Restaurant, located in the Terrace Village Shopping Center at 22003 66th Ave. W.
The restaurant, owned by Elhadj Diallo, opened in December. (Read more in our Feb. 2 article from MLTnews restaurant writer Deborah Binder here.)
"It is great to see so many new businesses, including multicultural businesses, opening in Mountlake Terrace," the mayor said. "Each addition enriches our community and brings new amenities and experiences."
Hadiani is family-run, serving West African cuisine in observance of Islamic customs. Fish with attieke (traditional couscous made with cassava) is among the specialties. Another popular dish is shrimp plantain skewers. There also is a vegetarian menu.
"At Hadiani African Restaurant, you won't only experience great African food but also the unique West African culture," Diallo said.
Mayor Matsumoto Wright was joined in the celebration by Mayor Pro Tem Bryan Wahl and Councilmembers Erin Murray, Rory Paine-Donovan and Steve Woodard. Also in attendance were representatives from the new Mountlake Terrace and Brier Chamber of Commerce.
Hadiani African Restaurant
Hours: Noon to 9 p.m. Wednesdays through Sundays
22003 66th Ave. West, Suite D-2, 425-967-3841
www.hadianirestaurant.com