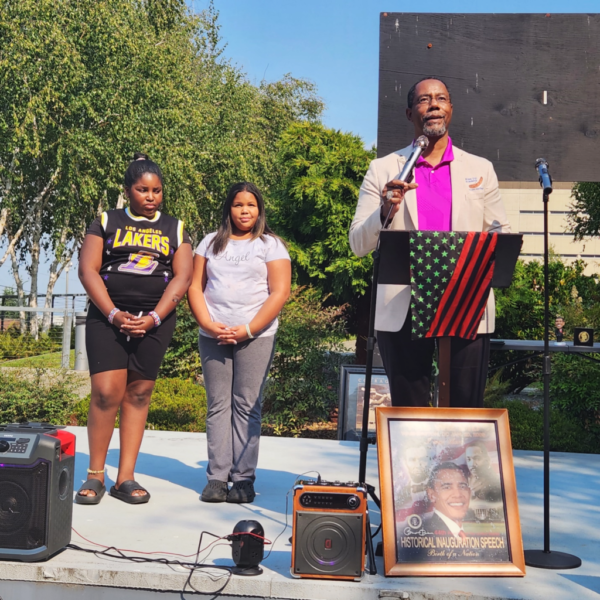 Speakers gathered on the steps of the Snohomish County Courthouse Saturday afternoon to mark the 60th anniversary of the 1963 March on Washington, stressing it was "Not a Commemoration but a Continuation."
The event was sponsored by the NAACP Snohomish County, Snohomish County Black Heritage Committee and the Boeing Black Employees Association.
The history of civil rights in America can be traced back to the reconstruction era, but gained prominence during the 1950s and '60s due to equal rights legislation, nonviolent protests, courageous individuals and Dr. Rev. Martin Luther King Jr. It was on Aug. 28, 1963, that 250,000 people from all walks of life attended "The March" on Washington, where King gave his now famous, "I Have a Dream" speech.
Snohomish County resident and event organizer Dr. Raymond Miller was one of the 250,000 who marched in 1963 and said the March on Washington was a watershed moment in the civil rights movement.
 "While we acknowledge the signs of progress, and stipulate that progress has been achieved, what we know is that 60 years later, we are still talking about jobs, freedom and poverty," Miller said. "This has to end, and that is why we are here today."
State Sen. John Lovick said: "We all love this country, and I'm here to tell you that it is possible to love something with all of your heart but at the same time understand that it is not perfect."
Lovick said the U.S. will grow as a country when it honestly confronts its past injustices. He challenged the audience to commit to telling the whole story of America's past – the glory and the indignities — because being honest about our past it will only make us stronger.
Snohomish County Black Heritage Committee Youth recently traveled to Washington, D.C, and visited — among a number of other historic sites — the Lincoln Memorial where King gave his speech.
Deja Ahman Smith, 17, was one of the youth on that trip. "I was amazed that I was standing on the platform where our people marched," Smith said, "and where Martin did his speech – just seeing and reading all of his quotes was wonderful to me because at the end of the day all Martin wanted was for all of us to come together."
There are more 60th anniversary events scheduled, including:
Aug. 27 – various churches in Snohomish County: Local clergy will speak, and churches will feature special presentations during worship services, focusing on the iconic history and impact of the 1963 March on Washington.
Aug. 28 – Anniversary Virtual Program. This online program will broadcast Dr. Martin Luther King, Jr's inspirational, history-making "I Have a Dream" speech that was delivered in front of the Lincoln Memorial in 1963. The one-hour webinar will also include music from the era and spokespeople will be available to answer attendee questions.
You can access this online program via this Zoom link. Meeting ID: 850 6530 3041 and passcode: 382427
— Story and photos by Misha Carter