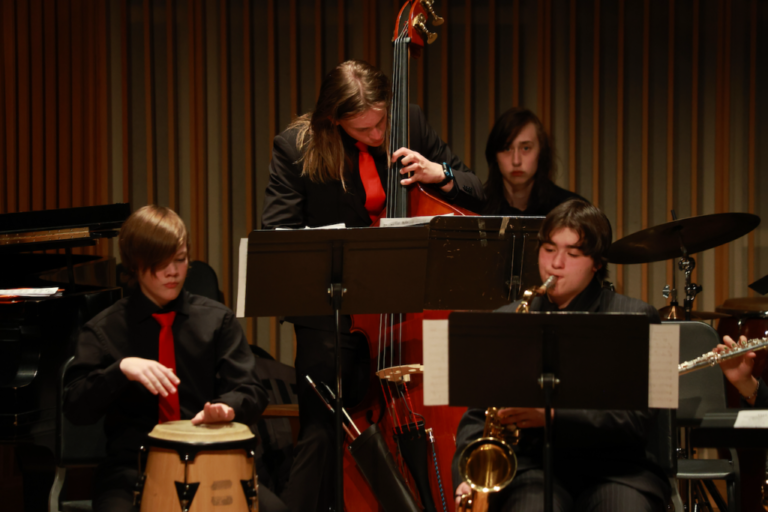 The Mountlake Terrace High School Jazz Ensemble 2 won the AAA Division lSaturday, April 22 at the Lionel Hampton Jazz Festival. They competed against 19 other high schools from around the U.S. Jazz 2 trumpeter Jesse Guasch was recognized for his solo performance.
Jazz Ensemble 1 also performed earlier in the day, when musicians Gabriel Espitia, Ryan Acheson, Braden Valdivia and Braeden Ryder were recognized for their outstanding solo performances. Earlier in the day, the high school musicians performed in jazz combo and solo performances
"I'm so proud of everyone," said Mountlake Terrace High School Jazz Band Director Darin Faul. "We had so many students play in small ensembles in addition to the two big bands. Both bands played really well and Jazz Ensemble 2 won their division.
"It's hard to not think about these students' achievements in light of the current cuts to the program," Faull continued. "Jazz 2 serves as a training ground for aspiring jazz musicians and is the future of our jazz program. Sadly, next year Jazz 2 is proposed to be cut due to the proposed district budget cuts."
The Mountlake Terrace High School Music Boosters invite you to visit their Facebook page to watch Jazz Ensembles 1 and 2 performances and learn how to get involved in their efforts to protect the music program.
The University of Idaho Lionel Hampton Jazz Festival is one of the largest and oldest educational jazz festivals in the world. With over 400 student performances, a dozen world-class jazz artists in attendance and nearly 100 workshops, clinics and special exhibits, the Lionel Hampton Jazz Festival honors the music, dance and history of jazz music and one of its most honored artists, Lionel Hampton.