Mountlake Terrace Mayor Kyoko Matsumoto Wright on Monday, Nov. 13, cut the ribbon for Shahi Tandoor and Grill, a new Mountlake Terrace restaurant specializing in Indo-Pak and Mediterranean cuisine.
Akbar Quadri, Shahi's owner, held the grand opening for the restaurant and banquet space with friends, family, Imam Ahmed Abdul Mujeeb with members of Masjid Umar Al-Farooq, and Mountlake Terrace officials including Wright, Councilmembers Steve Woodard and Rick Ryan and city staff including City Manager Jeff Niten.
Quadri's brother Syed Quadri even flew to Mountlake Terrace from India for the event.
Examples of Shahi's zabiha halal menu include a vegetarian menu and appetizers like Samosa, a crispy pastry filled with fresh vegetables or beef. There are 11 bread choices, including Keema naan, which is stuffed with a choice of lamb or beef. But, if you want possibly the tenderest meat you have ever had, order the Buttered Chicken.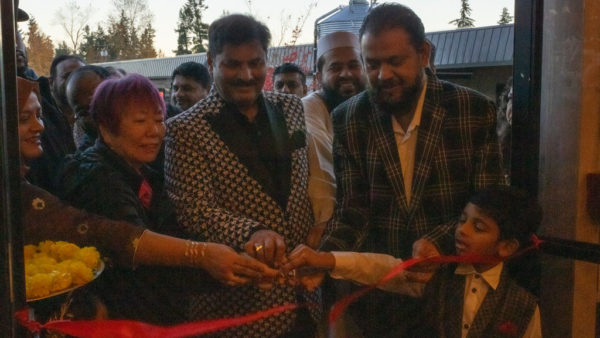 If you're afraid of the food being too spicy or not spicy enough, that's not a problem. Quadri said the heat that Indian and Pakistani cuisine is known for can be set for any palate or any diet, making some spicy options for their vegetarian dishes.
"Just tell our servers, and our master chef will adjust the heat," Quadri said.
All the ingredients at Shahi are made in-house, including their yogurt and naan, and they grind their herbs and spices rather than ordering processed mixes.
Quadri said the two things that will never enter Shahi: MSG and preservatives. But one would expect no less from a restaurant whose name translates to "royal."
The road to the grand opening took about two and a half years to travel. Complications from the pandemic delayed opening, then adapting to the new normal. However, Quadri said the city was able to help him navigate the process of zoning and health inspections as things reopened.
Quadri said he learned to cook from his mother as a young boy and later learned more from his wife, giving the dishes authentic flavor with the quality of upscale dining and the feel and comfort of home.
If you're tired of having your gatherings at the same boring place, with the same boring menu and food that makes you decide to go through the drive-thru on the way home, you might want to try Shahi.
Besides vegetarian options, the restaurant offers a banquet space with a stage large enough to fit a two- or three-piece band or one grand piano.
"I'm just wondering what all we can use this wonderful space for," Wright said. "It's always good to have other venues."
Shahi is about a two-minute walk from the Mountlake Terrace Civic Campus, depending on your pace, which could make for a quick lunch meeting destination. But also, Quadri said he will have neighborhood lunch specials and seasonal menu options that focus on regions of India and Pakistan.
Shahi Tandoor and Grill is open 11 a.m.–10 p.m. seven days a week and is located at 23204 57th Ave. W. in Mountlake Terrace.
To contact Shahi, call 206-600-3741 or email shahitandoorgrill@gmail.com. You can also follow them on Instagram at @Shahi.Seattle.
— Story and photos by Rick Sinnett