Over the coming months, NextMLT.com will be exploring how Lynnwood Link is going to impact sites throughout the city of Mountlake Terrace. This is the fifth of 13 locations that Sound Transit discussed during the January 2019 open house in Mountlake Terrace: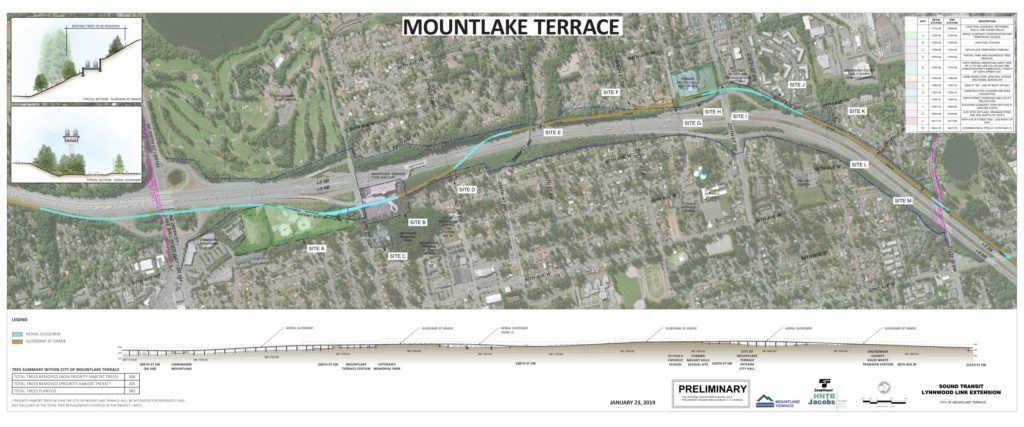 228th Street Southwest bridge
As northbound trains leave Mountlake Terrace Station at 236th Street Southwest, they will go through the hillside on the east side of I-5 at grade, cross to the west side of I-5 elevated and be back at grade south of 228th Street Southwest. Trains will then cross under the existing 228th Street Southwest bridge as shown in the section below.
This video below, starting about 4 minutes in, shows the trains leaving Mountlake Terrace Station, crossing I-5 and going under the bridge:
While work along the light rail alignment has begun both north and south of the bridge, the area directly under the bridge hasn't been modified.
227th Street Southwest dead-end
There are several single-family homes that Sound Transit has acquired and demolished for Lynnwood Link in Mountlake Terrace. One of those is the house at the east end of 227th Street Southwest just west of I-5. It appears that Sound Transit has acquired this property due to its proximity to the tracks, construction of retaining walls and construction access. (Don't worry locals, it's not the house with the musical holiday lights display.)
At 227th, there is a single point of access off 66th Avenue West and it dead-ends at the west side of I-5. A staircase from the cul-de-sac at the end of the street provides a pedestrian connection to 228th Street Southwest above. Noise walls will be constructed to dampen light rail and freeway noise from the neighborhood to the west. Some minor paving will take place and a new fire hydrant will be installed at the street end. The parcel acquired and the area around the end of the street will be landscaped after construction.