When was the last time you put two Republicans and two Democrats in the same room, and they all got along?
Well, it happened Thursday morning in Everett, at a session of the Economic Alliance of Snohomish County. The topics – your taxes, housing development, transportation and job creation.
They all got along; that doesn't mean they all agreed on the issues.  The Economic Alliance laid out its agenda for the upcoming session of the Washington State Legislature, which opens Jan. 9. The topics:
Creating a competitive business environment
Developing workforce programs and recruiting talent
Transportation
Building and maintaining "thriving communities"
Creating new jobs and workforce training got top billing as about 100 people met what was billed as a "fireside chat." But the lawmakers admitted that finding affordable housing for workers and housing opportunities for entry-level and lower-income people may be more challenging than creating jobs. Housing and services to support the "thriving communities" that the Economic Alliance is advocating will test the will of the legislature. All four lawmakers predicted many bills will be coming through the session on housing.
Rep. Carolyn Eslick (R-39th District) hopes the legislature or local communities find a way to rezone commercial property to housing, and she supports accessory dwelling units (ADUs) on any property in a community. Rep. Sam Low (R-39th) suggested fees and permits eat up too much of a house hunter's budget; Rep. Brandy Donaghy (D-44th) told the group that we need to look beyond single-family homes and condos when we create affordable housing.
A bill that failed last session – to overturn local zoning in favor of statewide regulations – sparked the most conversation. Gov. Jay Inslee last month told reporters he hopes to resurrect that bill; that we need more of what he calls "middle income" housing – ranging from duplexes to sixplexes – throughout the state. "One of the solutions to that," said the governor, "is to open up more land that is currently wired off, barbed wired off. You can't build housing because of our antiquated zoning. So, we will be asking legislators again to make more land available so people can have more housing."
Sen. Marko Liias (D-21st) told me that we must meet the needs of our communities, but he doesn't think a statewide preemption of local zoning is the answer. "Where cities are doing things right; Mountlake Terrace with the city center by light rail… we don't need to tell cities what to do," Liias said.
But he had a warning for communities that don't plan to build next to the transit investments the region is making, "I think that's where the state has to set some targets and say you need to figure out locally how to get here. But we need more housing next to the transit that we are building."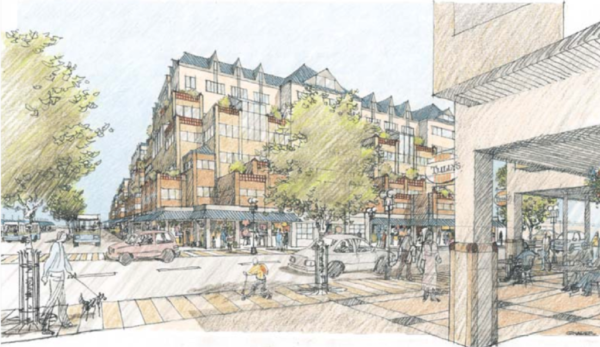 Liias also points to Lynnwood's planned City Center as an example of what's right: "You've got the Lynnwood Convention Center, a lot of great density going in around it… we've got beautiful examples of when you do it with a vision and when you do it comprehensively, you can do it right."
Edmonds, said Liias, is not yet where it needs to be. "We need a little bit bigger vision on (Highway) 99 and also on Edmonds Way," he said. "We need something that looks more like Shoreline, where they've got significant new housing that's gone in. We're getting there in Edmonds, but I don't see the housing units being built as quickly as we need to."
One obstacle, Liias believes, is the permitting process for new projects. He thinks it must be streamlined to encourage new development. "Once you've zoned it, you have to make sure that it also gets built. And that's what I think that we're not seeing yet in Edmonds; there is a vision, but we need the units now, on the ground."
The Boeing-sponsored meeting drew about 100 business, government and community leaders.  Boeing's Government Operations Director Susan Champlain brought a good news vibe, teasing the group – but not giving details – about the company's year-end sales numbers due out next week. She followed that up, telling attendees that Boeing hired "thousands of people in 2022" – and a promise that the future means "lots of work for Boeing and our suppliers."
Her comments follow United Airlines' big December order for 100 Boeing 787 Dreamliners and the huge purchase in 2021 of 270 Boeing 737s. In the past year, Southwest, Delta and Alaska have also ordered more than 200 of the single-aisle jets.
Listening intently, and pleased with what he heard, was Kevin McKay, director of marketing and programs at Boeing subcontractor Senior Aerospace in Arlington. "We are actively hiring machinists, assemblers, programmers as well as the support staff, McKay told me. The company is also looking for people at the entry level "who want to come in and learn," he said, adding that Senior Aerospace has 400 employees in two local facilities and will hire more this year. "If everything happens that looks like it's going to happen, we're going to need in the hundreds of (new) people." Those would be Snohomish County jobs.
Talk of lawmakers again considering a capital gains tax set off some sparks. Rep. Eslick cut to the chase, promising to fight against any capital gains tax. "We should not be involved in capital gains," she told the group, "more taxes mean less business for us."
Liias countered that "we have the most upside-down tax system of any state." He argued that the people who can least afford it pay "14-15%" in taxes, when the richest pay about 1% of their income. Liias pointed out that there are exemptions from capital gains for 401 K plans, for farmers and others; that the tax affects those who have stocks or investments. He said the state's plan for any revenue from capital gains is to invest it in "early learning where we can get the best return" for residents.
This was not a work session – no issues were resolved, no problems fixed. But this show-and-tell morning was a chance for the Economic Alliance to tell lawmakers what some of the county's priorities are; a chance for county decision-makers to hear what local lawmakers are thinking on those issues. When the legislature meets later this month, one lawmaker told me that maybe a quarter to a third of all bills will pass. But, as Sen. Liias put it, "we have to show that we are delivering on the core issues; to demonstrate that on housing, we're going to make some progress; that's what I'm hoping for."
— By Bob Throndsen