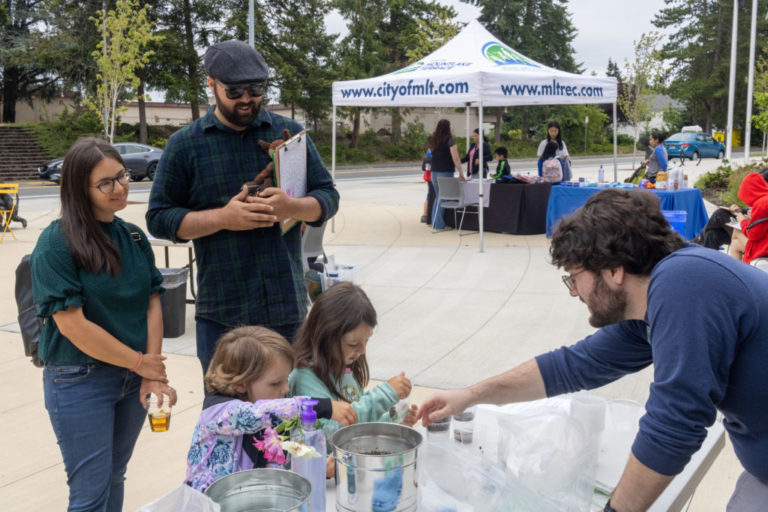 How do pollutants flow from cities into lakes and oceans? What's the best way to dispose of pet waste? These were among the lessons provided to children and parents attending the second annual Youth Science event at the Jerry Smith Town Center Plaza in Mountlake Terrace Saturday.
Sponsored by the City of Mountlake Terrace and the Snohomish Conservation District (SCD), Youth Science at the Plaza was designed for children grades K-5, but parents were also invited to get in on the fun with games and demonstrations that focused on keeping area water clean.
Alana Springer, SCD environmental education program manager, said the goal was to "get people to think about interconnections."
Much like water, the demonstrations had a flow in their lessons and a natural path. Starting with seed balls and habitat restoration, participants saw how these practices can protect rivers and streams and prevent floods. It's fitting that the watershed demonstration was at the exhibit's center because so much of Earth's life hinges on if and how water flows and what's flowing in it.
Where the water goes — and what it brings with it
Those attending saw how the watershed works, from a sprinkle to a flood. Pouring water into the model demonstrated how a neighborhood is affected by water and where the water returns. Dye is introduced to show how easy it is for pollution to spread through a watershed — an area of land that drains or "sheds" water into a specific water body.
As it flows from roads and freeways, rainwater picks up contaminants, such as motor oil, antifreeze and transmission fluid. But during a flood, more harsh chemicals usually held in storage — like gasoline or household chemicals such as anomia, bleach or detergent — can be introduced. What doesn't go directly into lakes from runoff will eventually be absorbed into groundwater and contaminate aquifers and wells.
Habitat restoration
Nathan Sharon, SCD environmental educator, gave the audience a hands-on lesson on how to make a seed ball using native seeds. However, the craft was not the only lesson.
Sharon explained that plants are necessary to prevent erosion and flooding by strengthening the banks of rivers and streams.
"Unfortunately, we don't have many native plants with deep roots besides trees, so we're using a quantity approach," Sharon said. "The more plants, the better."
Rather than locking soil in place with the trees' wide, deep-root network, they create a network of shallower roots. These roots will form an interlocking mesh, creating a natural retaining net for soil. 
Police-sanctioned poop-throwing?
The importance of proper pet waste disposal was turned into a game using fake dog poop. The Mountlake Terrace Police Department's Heidi Froisland and her partner, K9 narcotics dog Harley, were in attendance. Officer Harley wasn't onsite to see what was in the bags but to ensure they were tied shut before launching.
The Poop Toss was played by first using the bag as a glove to pick up the fake feces, then turning the bag right side out to tie it shut. After the bag was secured, participants threw it into an open trash can about 15-20 feet away.
The referee and coach for the Poop Toss was Alana Springer, SCD environment education program manager. She ensured contestants kept their toes behind the line while calling out trick shots like, "behind the back" or "under the leg."
The lesson in this fake fecal fling was not the science behind weight, gravity and inertia. It was about keeping the bacteria from pet waste out of the water supply.
Springer explained that not cleaning up after your dog or composting the waste can create issues because it introduces bacteria into waterways when it rains or is hosed off into a storm drain. In contrast, landfills are typically designed with a protective layer at the bottom to prevent groundwater contamination from chemicals or bacteria.
"Landfills are the best place for dog waste," Springer said.
There are more reasons to send your pet's business in a bag to a landfill than preventing waterborne illnesses. P is not only for poop but for phosphorus, a mineral that reduces dissolved oxygen levels in the water, raises acidity and is key in creating algae blooms, all contributing to the deaths of fish and other marine life.
Water testing
Laura Reed, City of Mountlake Terrace stormwater program manager, gave her audience a hands-on demonstration of the four key metrics to study for water quality: dissolved oxygen, water temperature, pH levels and turbidity.
Reed first showed the children how to test for dissolved oxygen levels. Reed explained that fish get oxygen from breathing water like humans do when breathing air. To test water samples, she had the kids place water samples into ampoules with a chemical that changed to blue. The higher the amount of oxygen, the darker blue the water turned.
Several factors can affect water's dissolved oxygen levels, such as detergents. But high temperatures can also trigger large algae blooms. These blooms displace oxygen in the water and kill fish.
But dissolved oxygen isn't the only concern for marine life. Unlike mammals, fish cannot regulate their temperature and must swim to cooler water. If the water is too warm, fish can die.
The device that measures temperature also measures pH levels or how much acid is in the water, and Reed also explained how runoff can lower the pH. The fish in low-pH water suffer from gill damage, develop mucus on the gills, and decrease in size and population. Another result is that fish diversity is reduced as acid-sensitive species are replaced with those that are acid-tolerant.
Finally, Reed explained the process for testing the water's turbidity — how cloudy it is. One can think of turbidity as air quality for fish.
Water samples were placed into a clear glass sample jar and put into a machine slightly smaller than a toaster set on its side with a cylindrical hole for the jar. The device tests the turbidity of water by passing light through the sample. The more particles in the water, the less light will pass through.
What this means for water-breathing creatures is that they are breathing in all the particles in the water.
"It's like when we have those big forest fires, and it gets hard to breathe," Reed said. "It clogs up their gills, and they can't breathe."
Art
Artistic attendees had a chance to express their creative side with salmon art. Coloring pages featuring the five native salmon species in the Puget Sound watershed were available to all ages to decorate and hang up in the plaza's salmon gallery.
You can find more information about the Snohomish Conservation District here.
— Story and photos by Rick Sinnett