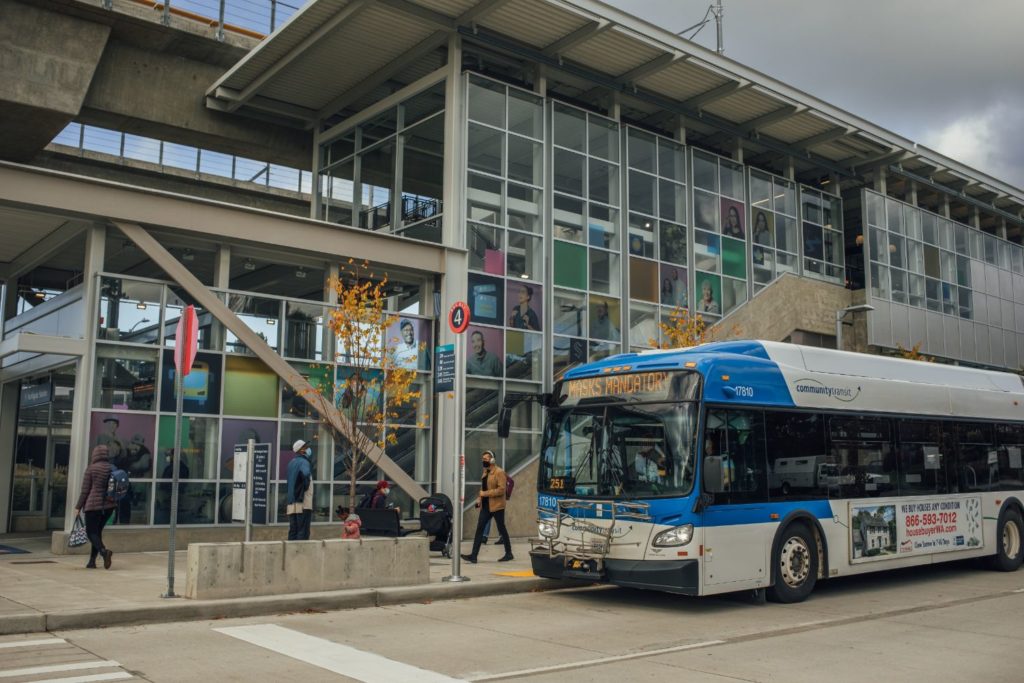 After two years of community input and interagency coordination, Community Transit is proposing transit changes for "2024 and beyond" that would increase frequencies on local bus service and include connections to light rail in Snohomish County.
The proposal contains 35 bus routes operating with approximately 480,000 annual service hours, a 32% increase over current service. The plan increases bus frequency and shortens wait times for riders by more than doubling the number of routes with 30-minute or better frequency and tripling the number of routes with 20-minute or better frequency on weekdays.
You can view the proposed Community Transit system map here.
The plan calls for increasing service in phases from 2024 to 2026 based on evolving plans for the opening of Sound Transit's Lynnwood Link extension of light rail, recruitment of new drivers, and other projects that may affect bus service on the I-5 corridor.
The agency is asking people who live and travel in Snohomish County to provide feedback on the proposed transit changes now through March 4. Details are available at communitytransit.org/transitchanges.
"We are excited to propose a plan for our transit future that was designed with strong community input," said Community Transit CEO Ric Ilgenfritz. "When light rail arrives in Snohomish County, we will have more frequent local service that will help people travel throughout our county and connect to the regional light rail network."
Service highlights
The proposal creates a more compact and higher frequency bus network for Snohomish County. The changes reduce Community Transit bus service from 46 to 35 routes with the eventual elimination of routes that serve Northgate and downtown Seattle. Light rail will provide those trips faster and without traffic interruptions. The agency will reinvest that service capacity to strengthen local bus connections.
The plan also includes expansion of bus rapid transit (BRT) service which travels along some of the most heavily used corridors in the county and attracts high ridership. The Swift Orange Line will connect with both the Swift Blue and Swift Green lines as well as provide a direct connection to light rail in Lynnwood. The Swift Blue Line will also connect to light rail at I-5 in Shoreline.
Public comment
Public comment on the proposed transit changes is open now through March 4. Details of the plan are available at communitytransit.org/transitchanges.
Community Transit staff will be available to answer questions about the plan in person and online Wednesday, Feb. 15, 5:30-7:30 p.m.
Community Transit will also host a table at Sound Transit's Everett Link Extension Public Scoping Meeting to share information and answer questions about the transit changes. That meeting will be from 6-7 p.m. Thursday, Feb. 16 at Cascade High School (Cafeteria), 801 E Casino Rd, Everett.
Community Transit will host a webinar and Q&A on Zoom to present information about the transit changes and answer your questions.
Zoom information: https://us02web.zoom.us/j/85050338265?pwd=OGJBT1BmeWVtYVdOd3Bvc2hpdlUwdz09
Webinar ID: 850 5033 8265 | Passcode: 324960
Or telephone: +1 253 215 8782 | Webinar ID: 850 5033 8265 | Passcode: 324960
Members of the public can send their comments on this plan to:
A public hearing before the board of directors will take place at 3 p.m., Thursday, March 2. Details on how to participate at the hearing are available at https://bit.ly/CTpubhearing.