Recently on our podcast, our guest Erin said something along the lines of "In this season of life, I am all about creating community over competition." We couldn't agree more! This got me (Emilie) thinking about how fortunate we are to have a community of amazing people surrounding us.
I am constantly reminded of that support; like today when I needed help with a client project. The number of people who showed up to help floored me, and I had it done within an hour. I've made a mental shift in the past few years that may be helpful to you, so I'll dive more into it here.
When I first started my business, I viewed networking events as "potential clients." I intended to hand out my business card, and would literally calculate my ROI, including the time it took to drive to the events, how much time I was there, etc, and wouldn't go back again if it wasn't a clear slam dunk in relation to the number of clients I could sign.
I was wrong.
What I didn't realize was that meeting someone and asking them to buy your service is like meeting someone and then proposing to them, expecting them to marry you immediately. It takes time! It takes getting to know someone and dating. And there are many people you'll get to know and genuinely care about that you won't end up marrying, but they'll stay in your life as friends, and you'll think about them when you meet someone who might want to marry them!
The analogy may not land with everyone, but what I'm really trying to say is that building your community is valuable. Even if they don't become clients, they might be your eventual podcast co-host, your business bestie, or someone you can lean on when times get tough. The friends in my community have become all of these things (and more), and yes some have become clients but ALL of them have become friends.
I have turned to my community in more ways than I can count. When I'm going through a hard time with business, when I'm sick, when I'm trying to help my 6-year-old win his kindergarten fundraiser, and the list goes on. Community is undoubtedly one of the most important things in my life.
Even if you're not a business owner, there are so many ways to build community. You could look online in groups such as Edmonds Moms or interest/situation-specific groups. I met a local mom in an online group for a health condition that our kiddos shared. Six years later, she works in my agency as a copywriter. I met Whitney on Edmonds Moms! You could join a MeetUp Group, scour Eventbrite for events that you fancy (we've met a ton of friends hosting our vision board events at Workhorse) or in a church/community service organization. The opportunities are endless. I've even made friends in the checkout line at Ace Hardware. Do not underestimate the power of a smile and a "hello."
Today, an old acquaintance called me to catch up. When was the last time you did that? I don't know about you, but I get so focused on my day-to-day and that never even crosses my mind. It was a really nice breath of fresh air, and I intend to do that with other old friends more often.
Community is all around us if we choose to engage. I challenge you (and me) to extend your hand to someone you normally wouldn't or to go to an event that piqued your interest (even if it's a little outside of your comfort zone). I won't promise, but I can guess that you won't regret it.
— By Emilie Given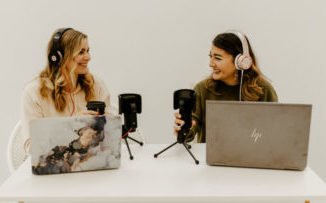 Whitney Popa is a writer and communications consultant in Edmonds and Emilie Given is a virtual assistant agency owner in Lynnwood. They write this column together to share work-from-home ideas. They love where they live and are grateful the virtual world allows them to achieve more work/life harmony. They also co-host a weekly podcast where they share their entrepreneurship journeys while learning about those of others. You can learn more about Emilie here and more about Whitney here.