I've written off spring for the majority of my life. It has always seemed like the least exciting of the seasons to me. I've rushed past it, wishing summer to come sooner. I've welcomed it begrudgingly, just happy to be rid of the snow. But now, at age 32, I (Emilie) am finding a newfound appreciation for Spring.
Like many of you, I imagine, I get into periods where I feel stagnant. I often feel immense pressure to create, to do, to be great.  And I'll admit, I'm hard on myself when I'm not. In fact, I've put off writing the article because I haven't felt creative lately.
Now I don't know about you, dear reader, but some of my best ideas come to me in the shower or when I'm in nature. Don't get me wrong, I'll never be "outdoorsy." My idea of outdoorsy is drinking a glass of wine on the patio, which is precisely what I'm doing now, but still… The birds singing and the sounds of cars pulling in the driveway is just the change of pace in place of the Slack pop and Outlook ding for me to get these wheels turning.
OK, Emilie, Spring is cool and all, but can you just get to the point here? The point of this story here is This Magnolia Tree In My Backyard. This magnolia tree… I don't know that I've ever appreciated a thing in nature before like I've appreciated this dang tree. If I were a poet, I'd write a Haiku about this tree and you know what, maybe I could be a poet so here:
Big pink and white leaves
Gorgeous magnolia tree
Glorious, you are
Did you appreciate my Yoda voice at the end? I'm watching Star Wars for the first time (gasp, I know) and really loving it. I digress.
I wait all year for this tree. I know how beautiful it's going to be. I know how much joy it's going to bring me. I also know these gorgeous flowers turn into brown leaves and leave a huge mess on the ground in the fall. Those leaves fall aimlessly and require raking.
Don't we all? And now, it occurs to me that maybe I love this tree so much because I see me in her. She is glorious and impressive when her flowers bloom, but it isn't always so. She takes time to rest, to fall apart, to decompose so she can bloom all over again.  We aren't always in bloom, but when we are it's magical. But it's also magical when we rest. When we hibernate, when we recharge. We have to embrace those shadow parts to experience the impact of the light.
So I'm leaving the patio (and hopefully you) with a newfound understanding and appreciation of Spring. It's OK for my leaves to fall. It's OK for me to rest. After a period I will bloom again. And I'm beautiful then, too.
If you're in the mood to reflect, here are five journal prompts for reflecting on blooming and relaxing as a person:
1. What activities or hobbies make me feel most alive and bring me joy? How can I make time for these activities in my daily life?
2. When was the last time I tried something new or stepped outside of my comfort zone? What did I learn from that experience?
3. What words or images come to mind when I think of blooming or growth? How can I apply those concepts to my personal growth and development?
4. In what ways do I currently take care of myself and practice self-care? What other self-care practices can I try to help me relax and recharge?
5. What small changes can I make in my daily routine to help me feel more present and grounded in the moment?
Remember, reflecting on personal growth and relaxation is an ongoing journey, not a one-time event. Embrace the process and enjoy the journey!
— By Emilie Given and Whitney Popa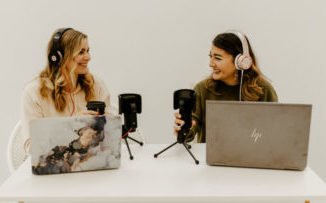 Emilie Given is a virtual assistant agency owner in Lynnwood, and Whitney Popa is a writer and communications consultant in Edmonds. They write this column together to share work-from-home ideas. They love where they live and are grateful the virtual world allows them to achieve more work/life harmony. They also co-host a weekly podcast where they share their entrepreneurship journeys while learning about those of others. You can learn more about Emilie here and more about Whitney here.