Twice a week, I (Whitney) work out with my trainer at Specialty Fitness Pros in Mountlake Terrace. I live in Edmonds, so I drive the edge of Lake Ballinger to get to my sessions. I'm usually rushing from one appointment to another and thinking about the next thing I need to do for work or for my family, but if you know the meandering road around Lake Ballinger, you know it doesn't exactly allow for rushing. 
To be clear, I respect and abide by traffic laws, aside from short bursts of road rage directed at inconsiderate, aloof or extra-slow drivers. But unpacking my thoughts and approaches to other humans — especially while driving — is a whole other column entirely. 
A few weeks ago, I was driving from my sweat session to the coworking space I oversee (Workhorse Coworking) downtown Edmonds and probably thinking about a client meeting. It's hard to say. It's also likely I was hangry. 
I saw a line of cars roll to a stop in front of me. There were about a half dozen of us. I wanted to be impatient — until I saw the goslings. 
To my left, moseying across the crosswalk moved a flock of geese, their babies trailing behind them. And in our paused vehicle lineup, I could sense a shift in energy. We all waited patiently for the geese and their goslings to cross. Unlike how we treat each other, we slowed for them. We watched them, our faces smiling and awestruck, amazed that they existed, that they took their time, that they dared cross a busy road to do whatever they intended to do. 
And it forced me to check in with my racing thoughts, my rushing nature, and my shallow breathing. That gosling crossing got me to be present. 
Once we saw the geese safely on the other side of the street and making their way down the hill back into the park, we all slowly stepped on our gas pedals. We took our time moving forward, glancing to the left to check in with them. I grinned, turned the music up a little, sang along, and thought about that impressive pack of waterfowl. 
I didn't consider it then, but looking back on it now, that few-minute moment has me thinking about the goslings I'm nurturing and how I can take more time to be present with each of them:
My kinder-age

communications business

, which is always evolving and moving into exciting new writing projects

My kids, 5 and 3, who are growing up right in front of me

Emilie's and my podcast and events business,

The Coast

, that we have big plans and dreams for

My future vision business—a publishing house focused on West Coast stories that are beautiful, wild, and deeply human
I've been more focused on monotasking this year, on deep and powerful work, which can be a difficult practice for me given my corporate, responsive conditioning, perfectionist nature, infinity ideas, and femaleness. 
But what if I created space for each of those things I listed above? Five minutes to sit and think about my existing business? Fifteen to meditate on my dreams? Twenty to read with my kids before bedtime? What if I got intentional and forgave myself when I intended to and didn't? 
These things are all my little goslings, after all, and they're sure going to do what they want to do on their time. I saw it at Lake Ballinger, and I don't always believe it for myself. But that reminder helped, and whenever I slip into rushing and worrying and feeling hangry and road ragey, I'll try to remind myself to make way for my goslings. 
Care to join me?
— By Emilie Given and Whitney Popa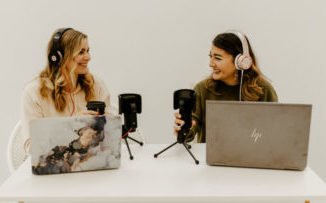 Emilie Given is a virtual assistant agency owner in Lynnwood, and Whitney Popa is a writer and communications consultant in Edmonds. They write this column together to share work-from-home ideas. They love where they live and are grateful the virtual world allows them to achieve more work/life harmony. They also co-host a weekly podcast where they share their entrepreneurship journeys while learning about those of others. You can learn more about Emilie here and more about Whitney here.