Events for January 18, 2020
Events Search and Views Navigation
10:15 am
Please join us at the meeting of the Friends of the Mountlake Terrace Library on March 16 at 10:15 at the Mountlake Terrace Library. We meet every month on the third Saturday so if not this time, please join us next month. We are looking for new members to join and support our library at...
Find out more »
7:00 pm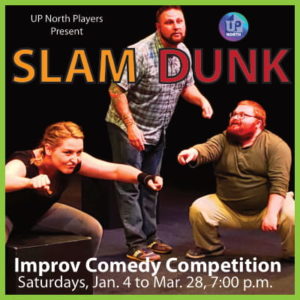 The "Slam Dunk" is a competitive improv competition, where teams try to match each other's best shot, all for audience approval. Attend the Slam Dunk and see the 8:30 show for $5! You can buy ahead of time when you pick up your tickets or exchange your Slam Dunk tickets at the break. Enjoy a...
Find out more »
8:30 pm
Join us Saturday nights Jan. 4 to Feb. 8 for the ultimate game of Skill and Wit. The Tribe Has Spoken returns for its Fifth season at the Black Box Theatre at Edmonds Community College. This season is all about New Beginnings: fresh faces, gritty games, and captivating competition. Players tackle audience inspired challenges leading...
Find out more »
+ Export Events