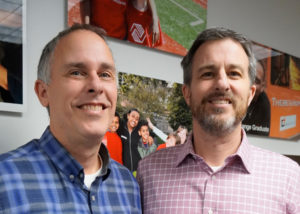 For their longstanding commitment to helping others — particularly those in underserved communities — Edmonds car dealership owners Kurt and Craig Campbell and Shoreline resident Suni Tolton have been selected as the 2023 Beloved  Community Award recipients by the Lift Every Voice Legacy (LEVL) Board of Directors.
The awards will be presented during LEVL's  5th annual Tribute to Rev, Dr. Martin Luther King, Jr., — Inspiring a Beloved Community in Song, Spoken Word and Dance — at the Edmonds Waterfront Center at 6 p.m. Monday Jan. 16. General admission tickets for the Evening  Program are $15 and can be purchase through Eventbrite at levlmlk2023.eventbrite.com or at belovedcommunity4all.org.
Tolton, the diversity and inclusion coordinator for the City of Shoreline, has worked across boundaries of race, gender, gender identity, national origin, and social and economic status to unite neighborhoods and communities by strengthening social well-being and enhancing cultural pluralism. Her initiatives have included community leadership luncheons; diversity, equity and inclusion (DEI) public trainings and newsletters as well as individual coaching and mentoring, said Donnie Griffin, LEVL's founder and president.
"Suni's reach of involvement extends beyond Shoreline from Seattle and throughout Snohomish County," Griffin said. "She is passionate about her work, a continuous learner and a friend to many who lead in the DEI world, whether they work in government institutions, businesses or community-based organizations."
For well over a decade, Kurt and Craig Campbell's commitment and personal compassion to reach out to the "least of us" can best be demonstrated by their inspiring leadership of hundreds of volunteers, which has led to the development of Shoreline's Jacob's Well. Jacob's Well, under the nonprofit Vison House umbrella of services, provides transitional housing, child care and support services for homeless mothers, as well as for men recovering from drug and alcohol addiction in a separate location.
Additionally, utilizing the resources of their family business Campbell Auto Group, the two brothers have continuously empowered and partnered with dozens of faith-based nonprofit and charitable organizations to improve the quality of life of marginalized communities throughout Snohomish and King Counties.
"Kurt and Craig are excellent models of our Beloved Community values — creating communities free of hatred, injustice and poverty," Griffin said. "LEVL is excited to shine a light on their good works."
Featured speaker for the "When Love Changes Things"-themed program is Leilani Miller, executive director of Millennia Ministries, an Everett-based Snohomish County social services organization dedicated to breaking the chains of poverty, injustice and oppression.
A Beloved Community – Morning Program for children and families will take place from 9:30 to 11:30 a.m. also on Jan. 16 at the Edmonds Waterfront Center. Admission to the Morning Program is free and will feature local performers in addition to a variety of fun activities specially designed for children and families. These include a cooking demonstration for children, art workshops, tap and ballet dance lessons, internet safety classes and children's storytelling.
The Edmonds Waterfront Center is located at 220 Railroad Ave. in Edmonds.