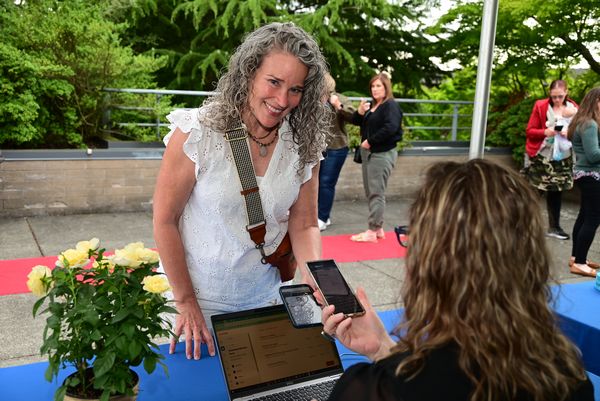 It's never too early to start the weekend, especially when it's the annual Edmonds Art Festival.
Things got underway Wednesday evening as more than 400 ticket holders gathered at the Frances Anderson Center and the Edmonds Library Plaza for the annual Celebrate the Arts party. The evening began with viewing juried art and student art in the Frances Anderson gym and several classrooms, after which attendees moved to the Plaza for food, drink, music and dancing.
A Father's Day weekend tradition, the Edmonds Arts Festival runs Friday through Sunday June 16-18. Hours are 10 a.m. till 7 p.m. Friday and Saturday, 10 a.m. to 5 p.m. Sunday. Admission is free. Learn more here.
— Story and photos by Larry Vogel