The City of Mountlake Terrace hosted a special meeting on Wednesday, Oct. 4, explaining the city's Comprehensive Plan and answering questions from city officials.
Mandi Roberts and Sierra Carson of Otak presented Comp Plan 101. Otak is a multidisciplinary architecture and urban design firm contracted by the City of Mountlake Terrace as a consultant for its Comprehensive Plan and Transportation Master Plan (TMP).
The Comprehensive Plan is the official document that establishes a series of goals, policies, and benchmarks to guide the city's future development, including development regulation decisions made by elected officials and local government staff.
The comprehensive planning process builds consensus and commitment on these goals and policies from elected and appointed officials, staff, the overall community, and other interested parties. The final adopted Comprehensive Plan allows the city to be proactive and manage its growth to achieve the community's vision.
Roberts explained the Washington State Growth Management Act (GMA) as an inverted pyramid that starts at the state level at the bottom as a basis and then goes through regional planning policies as it progresses.
Puget Sound Regional Council (PSRC) develops policies and coordinates regional growth, transportation and economic development planning for Snohomish, King, Pierce and Kitsap counties. PSRC has developed the Multicounty Planning Policies (MPP) to coordinate efforts in the Puget Sound region better.
Roberts said they reviewed those policies when developing the Mountlake Terrace plan and discussed which share like-terms and tier consistency with the MPP.
Then, Snohomish County also has a Comprehensive Plan with countywide planning policies the Otak team considered for adherence.
"Then we have your Comprehensive Plan, which is really meant to be a reflection of you and what's important to your community," Roberts said.
It is here at the top where the inverted pyramid could also be likened to a flower, as it gets to the local level and blossoms into the Mountlake Terrace Vision 2024 Comprehensive Plan.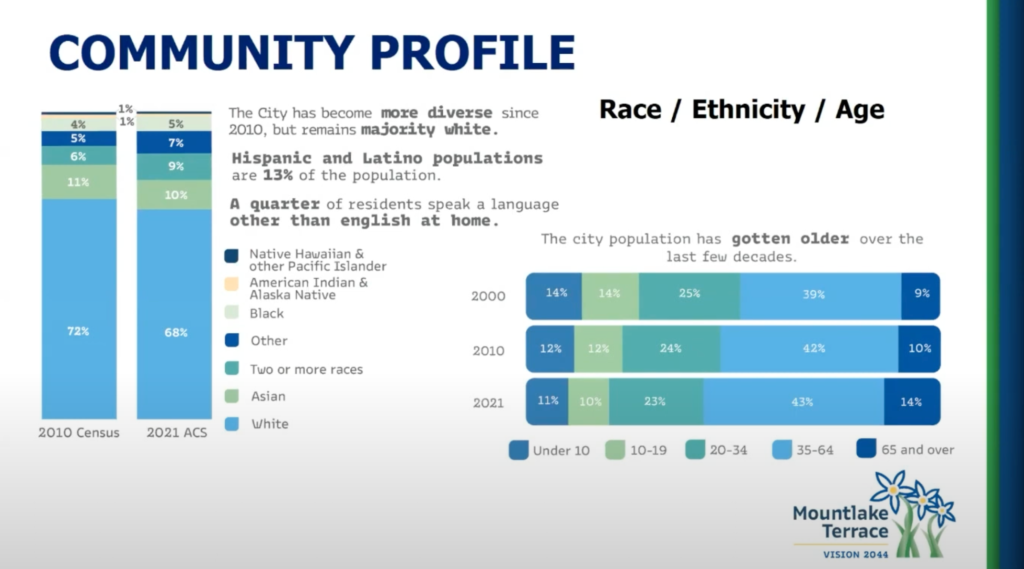 From here, Otak's team analyzes the city comp plan and the subsections such as Parks, Recreation, and the Transportation Master Plan.
Other goals include preserving the environment and creating climate change resiliency. Roberts said their plan would manage the city's growth in a "smart way" to reduce the amount of urban sprawl extending, having environmental impacts, and creating traffic.
Roberts said. "We also want to make sure that we're planning for and accommodating housing that is affordable to all income levels."
Sierra Carson explained how the PSRC Vision 2050 plan benefits Snohomish, King, Kitsap and Pierce counties by helping secure over $240 million for select projects throughout the region each year.
The PSRC Vision 2050 plan is an update to the Vision 2040 plan, which accounts for regional growth between now and 2050.
"One-point six million people and 1.2 million jobs will be interspersed throughout the whole four-county region," Carson said.
She added that Mountlake Terrace is a high-capacity transit community, and Snohomish County's expected 50% growth by 2044 was also factored into Otak's proposed plan.
Not only do the various Comprehensive Plans need to mesh and complement each other to keep regional consistency, but there are house bills that must also be considered.
Roberts explained five bills were key to developing the comp plan:
HB 1220, which accommodates housing needs. Cities must show they have sufficient land to fill their housing needs, including emergency housing and shelters. Also, cities must consider housing for all income levels, which Roberts referred to as income bands.
Details on Mountlake Terrace's income bands will be discussed at a later planning meeting.
HB 1717 gives federally recognized indigenous tribes whose reservation or ceded lands lie within the county the right to participate in regional planning.
HB 1110 supports more middle housing at the single-family level to encourage home ownership. Mountlake Terrace must allow at least duplexes on every residential lot within 1/4 mile of major transit stops.
HB 1337 expands housing options by easing barriers to constructing and using accessory dwelling units (ADU). This bill allows the construction of two ADUs — attached or detached — on all residential lots. It also eases parking requirements and bans owner-occupancy requirements.
HB 1181 Improves the state's response to climate change by updating the state's planning framework.
Otak also analyzed the city's current demographics with projections for 2024. Although most of Mountlake Terrace's population remains Caucasian, it has grown in diversity over the years, and the trend is expected to continue. Also, due to lower birthrates and an aging population, the average age in Mountlake Terrace has gotten older.
A survey of residents found that 44% are renters. Of those renters, 51% pay more than 30% of their income in rent and are considered burdened renters.
As for commuting, the survey found that 6,473 participants worked in but did not live in Mountlake Terrace. Another 10,435 live in the city but do not work there, and 324 live and work from home. These numbers were received after the pandemic but before the light rail.
Although income is less than the Snohomish County average, it has risen. Almost 40% of Mountlake Terrace jobs are in finance and insurance, followed by health care at about 12%, retail at about 8% and construction at about 7%.
Planning commission briefings are scheduled each month from December 2023 until July 2024. During August and September 2024, the entire draft plan will be reviewed and revised for final approval.
Population and employment allocation will be discussed in more detail at a later meeting.
The survey is only 71% complete. So far, the breakdown of respondents by location is Town Center at 28%, Cedar Terrace at 21%, Gateway at 11%, Lake Ballinger at 9%, and Melody Hill at 3%
Respondents said the best way for the city to communicate was social media at 66%, electronic newsletters at 54%, city website at 33%, and utility bill stuffing at 19%.
To see the entire presentation, click here.
To learn more about the Mountlake Terrace Vision 2024 Comprehensive Plan and how to participate, click here.