Thursday, June 15, 7 p.m.
Readers may remember the Edmonds-wide fangirling that happened in March when Martin Sheen and Emilio Esteves came to town. The father-son actor team were visiting travel guru Rick Steves to film content for a special Fathom event of their movie, The Way.
The wait to see this additional footage at the Edmonds Theater is over! The Way will show for free (first come, first-served) at the Edmonds Theater Thursday, June 15 as part of its once-a-month Throwback Thursday events. Doors open at 6 p.m. for the 7 p.m. showing. Before the movie begins, Steves plans to give a talk about the filming process. Steves has not seen the new segment and plans to watch the film for the first time on the 15th.
The film, written and directed by Emilio Esteves, follows a workaholic ophthalmologist whose only son dies while hiking the famous pilgrimage the Camino de Santiago in Spain. When he goes to retrieve his son's ashes, he decides to hike the trail on his son's behalf. Through his journey, he falls in love with travel and gains a new perspective on life.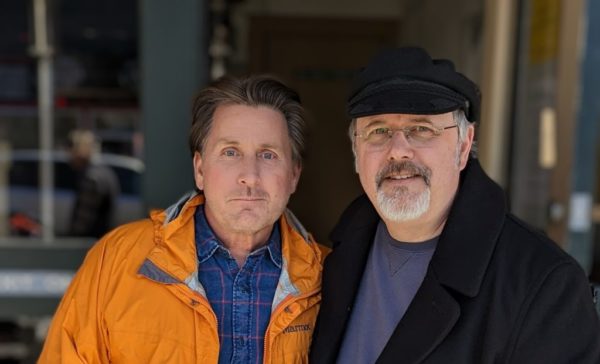 "It's a great movie," said Gary Hoskins, manager of the Edmonds Theater. "I watched it the day before they were here. It's very interesting and you get to actually (in a way) go on the hike with Martin and see the countryside. After they were here filming, I met many local Edmonds folk who have actually done the journey — which is very impressive."
Sheen and Esteves had never worked with Steves, but they had been fans of his and reached out to collaborate. Steves shared that "they called me up and we became good friends over zoom. They were kindred spirits." Sheen, in particular, was a fan of Steves' book Travel as a Political Act. They discovered they had both traveled in Central America in the 1980s. Steves recounted they shared the same heart to "build bridges, not walls.
The segment filmed in Edmonds includes a discussion, filmed at the Churchkey Pub, on the joys of travel. Steves' philosophy is "when we travel, we come back with the best souvenir: a broader perspective.There is a certain meaning to [travel] after being cooped up for years because of Covid. Everyone involved was so committed to the message of the movie. You can learn a lot about our home by leaving and looking at it from a distance."
For those who have not been to Spain, nor hiked the Camino de Santiago, we have an opportunity to "travel" from the comfort of the Edmonds Theater.
— By Elizabeth Murray
Elizabeth Murray is a freelance writer thankful to call Edmonds home. When she's not busy wrangling her two kids (and husband), you can find her playing ukulele and singing with The Band LeLe.