Bel Canto Concert Series at Holy Rosary Parish
Thursday, Aug. 31, 7 p.m.
Holy Rosary Catholic Church
630 7th Ave. N, Edmonds
Attend the Bel Canto Concert Series on Thursday evening, Aug. 31 at Holy Rosary Parish in Edmonds. Arranged by Bellevue Opera and performed by local and international performers, the concert includes sacred music, selections from beloved Operas, and Broadway shows. Suggested donation for tickets is $25, ages 8 and under free. Tickets available at the door beginning at 6 p.m.. and the concert begins at 7 pm. Proceeds benefit Sacred Heart Radio, Holy Rosary Parish and Bellevue Opera. Come enjoy an evening of Bel Canto, "beautiful singing!"
~ ~ ~ ~
Bench and Board presents Redefining Borders exhibit
Opening Reception Saturday, Sept. 9, 4-8 p.m.
The Skylight Gallery at Bench and Board
610 Main St., Edmonds
The Skylight Gallery at Bench and Board will host an all women's art show through the end of September. The Redefining Borders exhibit runs through Sept. 30. Meet the artists at an opening reception Sept. 9. The show features work by artists Bushra Shamma, Kate Rose Johnson, Lynna Goldhar Smith, Marnie Joy Erickson, and Michelle Stephens.
~ ~ ~ ~
"Early Bright" to open at Gallery North
Reception Saturday, Sept.. 9, 1-4 p.m.
Gallery North
401 Main St., Edmonds
Gallery North announces its September art show Early Bright featuring the work of emerging printmaker, Hannah Mason and featuring ceramics artist Tomoko Suzuki.
Before the sun breaks over the horizon, the night sky begins to glow and colors start to emerge out of the darkness. Known for her black and white block prints and linocuts, Hannah's new show, Early Bright, will showcase a new side of her work featuring old prints in new shades and hues to new block-prints and jigsaw linocuts in, browns, tans, and golds.
For Hannah, carving is an act of destroying and subtracting to create something new. Born and raised in the foothills of the Cascade Mountains, she draws inspiration from nature and seeks to inspire that love and appreciation of the outdoors through her work. She fell in love with printmaking for its graphic quality of lines and patterns; the repetitive nature of printing yet the chaotic imperfections of texture and ink. Soft and strong, power and grace, she's drawn to the paradox.
Tomoko Suzuki was born and raised in Japan. She developed the desire to pursue art when she moved to the states twenty-eight years ago. Since then, Tomoko went on to study printmaking to receive her Master's degree in fine art. Her strength as an artist has been her flexibility to work across media and will to learn new techniques that best fit her artistic vision. She creates abstract figurative art in different disciplines such as drawing, printmaking, sculptures and installation. The plump figures, which she calls "Chubbies," are the predominant icons in her art. Tomoko aims to express the strength of ordinary beings and hopes to inspire the joy of living life in the midst of daily struggles.
Early Bright opens Sept. 1 and runs through Sept. 30. A reception will be Saturday, Sept. 9 from 1-4 p.m., where you can meet the artists, enjoy light refreshments, and view the beautiful display. Art Walk will be Thursday, Sept. 21st from 5-8 p.m. Stop by for a visit to see this special show any time throughout the month.
~ ~ ~ ~
Cascadia Art Museum lecture on "The Unfortunate, but Encouraging History of Native American Art in Our Public Spaces" with Jim Rupp
Saturday, Sept. 9, 6-8 p.m.
Cascadia Art Museum
190 Sunset Ave., Edmonds
For over 100 years, Seattle's Pioneer Square totem pole has been an iconic symbol of the city. It's an odd situation because totem poles are from Alaska and British Columbia, not from the Puget Sound region, and the art of local Salish tribes was not seen in regional public spaces. In more recent years, our public spaces have been graced with an increasing number of Native artworks created in this region, using Salish styles and forms. Learn from author Jim Rupp about how totem art forms became ubiquitous in the Puget Sound region and join him on a visual tour of traditional and contemporary Native artworks throughout Seattle and neighboring cities. Get tickets here.
~ ~ ~ ~
Tickets on sale for Agatha Christie's "Murder on the Orient Express"
Sept. 15 – Oct. 8, Thursdays – Saturdays at 8 p.m., Sundays at 2 p.m.
Wade James Theatre
950 Main St., Edmonds
Edmonds Driftwood Players' upcoming production is Agatha Christie's Murder on the Orient Express, at the Wade James Theatre, Sept. 15 – Oct. 8.
"This production will open EDP's 65th Season of community theatre in Edmonds," said Katie Soulé, managing director. "Edmonds Driftwood Players is a volunteer-based, nonprofit community theatre that is proud to have been entertaining audiences in the Pacific Northwest since 1958, making EDP one of the oldest operating community theatres in Washington state. Having won the 2023 Broadway World Seattle award for Best Play (The Mousetrap), we would like to thank the community for their continued support of local theatre and look forward to celebrating our 65th season with you."
Ken Ludwig's clever adaptation of the Agatha Christie classic boasts all the glamor, intrigue and suspense of Dame Agatha's celebrated novel, with a healthy dose of humor to quicken the pace. Just after midnight, a snowdrift stops the Orient Express in its tracks. The luxurious train is surprisingly full for the time of the year, but by the morning it is one passenger fewer. An American tycoon lies dead in his compartment, stabbed eight times, his door locked from the inside. Isolated and with a killer in their midst, the passengers rely on detective Hercule Poirot to identify the murderer – in case he or she decides to strike again.
Directed by David Alan Morrison and featuring the acting talents of David Hayes (Hercule Poirot), Brian Harper (Monsieur Bouc), Karli Reinbold (Mary Debenham), Giovanna Cossalter-Walters (Hector MacQueen), Brandon Jepson (Michel the Conductor), Carol Richmond (Princess Dragomiroff), Elora Coble (Greta Ohlsson), Skye Stafford (Countess Andrenyi), Kim Ferse (Helen Hubbard), Landon Whitbread (Colonel Arbuthnot), and Thomas A. Glass (Samuel Ratchett).
The creative team includes Brent Stainer (lighting designer), Nancy Johnson (properties designer), Chantal Burns (assistant properties designer), Audrey Herold (costume designer), Rex Goulding (master carpenter/scenic designer), Grace Helmcke (dialect coach), Joe Knight (video/projection designer), Paul Fleming (assistant director), Julie (Bryan) Benner (stage manager), Natasha Thompson (assistant stage manager), Topher Wick (assistant producer), Bailey Dobbins (build supervisor), Brian Fletcher (technical director/producer), and Katie Soulé (managing director/producer).
Tickets are $28 General Adults (ages 19-59); $25 Junior/Senior/Military. Available online here or by phone at 425-774-9600. Discounted tickets for groups of 10+ people are also available.
Content Warning: This play is suitable for ages 12-plus with mild adult language and acts/references to violence.
Run Time: This production is anticipated to be two hours and 15 minutes including intermission.
Agatha Christie's Murder on the Orient Express is presented by arrangement with Concord Theatricals on behalf of Samuel French, Inc.
~ ~ ~ ~
Catch the Travis Larson Band in Lynnwood
Saturday, Sept.. 16, 8 p.m.
Vessel Taphouse
15615 Pacific Hwy, Lynnwood
Progressive rock-fusion trio Travis Larson Band is touring the U.S. this fall in support of their 8th  studio album, The New Exhibit. They last played Seattle in 2019 on a sold-out tour of clubs and theaters with The Aristocrats. This will be their first time back on a nationwide tour since the pandemic and their first new music in seven years. Learn more about the band on their website.
~ ~ ~ ~
Olympic Ballet Theatre snnounces 2023-24 performance season
Olympic Ballet Theatre (OBT) hasan exciting line-up of four productions in the upcoming season, starting with the all-time holiday favorite The Nutcracker in December, spotlighting new works in February's Debuts, bringing back the comedic adventures of Don Quixote in May, and culminating in an eclectic mix of classical and contemporary ballets in June's Summer Performance.
OBT offers season subscriptions and single tickets to each performance. Individual tickets range from $27 to $55 per person and can be purchased online. The season subscription includes ticket packages for all four productions at a 10% discount (applies to additional tickets for family and friends). The subscription is available for purchase at the OBT Box Office at 425-774-7570 or by email, and subscribers can exchange tickets at no fee.
Jumpstarting the performance season, OBT will be raising funds with the annual Autumn Auction & Dinner on Saturday Nov. 11 at the Seattle Golf Club. This fun and elegant evening features a delightful dinner, live and silent auctions, performances of excerpts from the upcoming season, and opportunities to support OBT. For more information about tickets or auction sponsorships, visit here.
2023-2024 Performance Season
(Casting and program are subject to change)
The Nutcracker
Dec. 8-10, 2023 | Everett Performing Arts Center
Dec. 15-20, 2023 | Edmonds Center for the Arts
This popular production of The Nutcracker features choreography by OBT artistic directors Mara
Vinson and Oleg Gorboulev, sets designed by Jeanne Franz, Ruth Gilmore, and Phillip Lineau, and iconic music by Pyotr Ilyich Tchaikovsky. The Nutcracker is one of the most famous classical ballets and a holiday tradition for many, telling the story of a little girl named Clara, her mysterious godfather Herr Drosselmeyer, a very special nutcracker, and a magical night's journey.
Debuts
Feb. 17-18, 2024 | Edmonds Center for the Arts
Vibrant and exciting, Debuts presents new works by talented contemporary choreographers. This production features Luna by award-winning Juilliard choreographer Norbert De La Cruz III with music by Nathan Prillaman and a world premiere choreographed by Eva Stone, founder of the Stone Dance Collective and CHOP SHOP: Bodies of Work Contemporary Dance Festival.
Don Quixote
May 4-5, 2024 | Edmonds Center for the Arts
Follow the adventures of Don Quixote and his mischievous companion Sancho Panza on their quest for love, honor, and justice in this fun bravura ballet. Staged after the production by Marius Petipa and Alexander Gorsky, this classical three-act production of Don Quixote will transport you to colorful medieval Spain with its beautiful sets by award-winning set designer, John Iacovelli.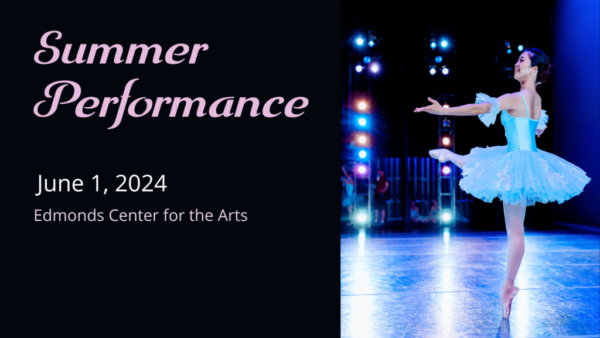 Summer Performance
June 1, 2024 | Edmonds Center for the Arts
Olympic Ballet Theatre closes its performance season with an eclectic production celebrating the diversity of ballet with classical ballet excerpts from famed choreographers of the past and new works by outstanding choreographers of today. The 2024 Summer Performance features an excerpt from the classical ballet Raymonda by Marius Petipa and A Gentle Prelude by Donald Byrd, Artistic Director of Spectrum Dance Theater.
~ ~ ~ ~
Rainbow City Performing Arts Opportunities
Rainbow City Performing Arts (RCPA) is thrilled to invite all musicians and performers to join its dynamic family of ensembles. RCPA is a non-profit organization with expanded facilities and strong support mechanisms to welcome new members of all backgrounds who are eager to express their musical talents to uplift marginalized communities throughout the Puget Sound region.
RCPA's mission is to provide a safe and inclusive space for LGBTQIA+ individuals and their allies to explore their artistic aspirations through music. They welcome all people regardless of identity, ability, or economic circumstance to join in their mission and express themselves and be present in the community. Offering a diverse range of ensembles, RCPA has many opportunities soon to join at the start of their new season this fall:
Rainbow City Orchestra: Perfect for string, wind, and percussion enthusiasts, this symphonic ensemble delves into classical and contemporary repertoire. Rehearsals take place on Sunday afternoons in the University District, beginning September 10. String players require no audition, while wind players will have the opportunity to audition for a chair. The orchestra is slated to perform at Benaroya Hall on November 17, featuring a captivating repertoire, including the iconic "Rhapsody in Blue." Rehearsals and performances will continue into next Summer.
Rainbow City Concert Band: Open to wind and percussion players of all skill levels, this ensemble explores a broad spectrum of musical styles, from marches to jazz and pop. Rehearsals commence on Monday nights starting Sept. 11 in the University District. The band proudly celebrates its 25th anniversary with a grand commissioned work to be debuted at Benaroya Hall on Nov. 17. The season continues with two more concerts in the series lasting through next April with additional chamber music opportunities.
Rainbow City Drumline: This ensemble welcomes percussion players seeking to master drumline routines with precision and high energy. The drumline begins rehearsals on Saturdays, starting September 16, offering open skill-building workshops throughout the fall. Players of all skill levels, including beginners, are encouraged to join. The drumline supports numerous performances, including parades, festivals, and pride events, throughout the year. Full band rehearsals will begin in March to prepare for upcoming performances.
Rainbow City Color Guard: For those who love flag, rifle, or saber spinning set to music and movement, this ensemble is the perfect fit. Rehearsals commence on Tuesday nights starting Oct. 17 at Hazen High School in Renton. The color guard is open to participants of all experience levels, aiming to uplift the LGBTQIA+ community through expressive performance. Collaborating with the marching band and drumline, the color guard participates in many events mostly outdoors in summer.
To join any of these ensembles, interested individuals need to fill out a contact form on the Rainbow City website, specifying their ensemble of choice. Detailed information about each ensemble and membership expectations are also available on the website. The RCPA team will respond and connect prospective members with ensemble directors. Additionally, aspiring musicians are encouraged to attend open rehearsals to experience firsthand what it is like to be a member.
— By Elizabeth Murray
Elizabeth Murray is a freelance writer thankful to call Edmonds home. When she's not busy wrangling her two kids (and husband), you can find her playing ukulele and singing with The Band LeLe.