Check out the boo-tiful new art this month at Art Walk Edmonds
A sampling of what you'll find this month (clockwise from top left): Chris Minor at ArtSpot, Maëry Lanahan at Sugarology Edmonds, Brooke Borcherding at Cascadia Art Museum, and Kelsey Ko at Beauty and The Barber. More awaits.
5-8 p.m. Thursday, Oct. 19
Spooky season may be upon us, but there is nothing scary about the new art around downtown Edmonds for this month's Art Walk Edmonds.
Twenty businesses with new art shows are on tap this month for you to stroll and see — and many will also be hosting artist shows during the Third Thursday Art Walk on Oct. 19 from 5-8 p.m.
Make sure you stop into ArtSpot to see artist Chris Minor unveil his custom linocut print for his signature "Deadmonds" series. For those of you on the cutting edge of fashion, you won't want to miss Kelsey Ko at Beauty and The Barber. Author events, potters, painters, jewelry artists, fiber artists and photographers are also featured in businesses around town. Get out and "art stalk" them all!
Art lovers of all ages are welcomed and encouraged to come out, meet the artists, and get inspired. Take a look at the show descriptions and walking map online to come up with your plan of action.
~ ~ ~ ~
The road to reading is paved with … Story Trail stories
Oct. 1-Dec. 31
Civic Center Playfield, 598 Edmonds St., Edmonds
Edmonds Library is partnering with the City of Edmonds Department of Parks, Recreation and Human Services to bring Story Trails to the public, starting Oct. 1 with A Big Mooncake for Little Star by Grace Lin, located at Civic Center Playfield, 6th Avenue North and Bell Street.
Story Trails encourage kids to read, enjoy the outdoors, get active, and use our parks and public spaces. The featured picture books are geared towards children ages 3-8, but can be enjoyed by all. Posts along the trail guide readers through the book. Don't have the book, no problem! Use the posted QR code to get a copy from the library.
Mark your calendar: over the course of 2023-2024, there will be a rotating Story Trail throughout Edmonds. Each installation will stay in its location for three months. The Story Trail is supported by Friends of the Edmonds Library.
Oct. 1 – Dec. 31, 2023: Civic Center Playfield, 6th Avenue North and Bell Street
Jan. 1 – Mar. 31, 2024: Yost Park, 9535 Bowdoin Way
Apr. 1 – Jun. 30, 2024: Brackett's Landing South, 100 Railroad Ave.
Jul. 1 – Sep. 30, 2024: City Park, 600 3rd Ave. S.
Oct. 1 – Dec. 31, 2024: Mathay-Ballinger Park, 24100 78th Pl. W.
~ ~ ~ ~
Travel through time with "Edmonds Then and Now: 1876 to 2023"
In Edmonds Then and Now: 1876 to 2023, Arnold Lund, photographer and Vice President of the Edmonds-South Snohomish County Historical Society and the Edmonds Museum, has recreated vintage photographs from the original photographers' perspectives.
The photos are supplemented with images and stories that provide context to what people experienced when they were taken. The old photographs have been refreshed with the latest technologies.
The result is a celebration of Edmonds' indomitable spirit, enduring through fire and snow, trials, and tribulations. The book is not only a way to imagine what it was like to live in Edmonds over the last century, but is also a tool that can be used to experience the town's history while exploring its streets in a new and exciting way.
The book is available on Amazon and at the Edmonds bookshop. It will also, of course, be carried in the Edmonds Historical Museum. The goal is to leverage all profits from it to help support the reboot of the vision for the Museum and the Edmonds-South Snohomish Historical Society. This would make a great holiday gift for friends and family who should get to know our wonderful town or new friends moving to town.
~ ~ ~ ~
Story Time With Local physician and children's author, Dr. Margaret Towolawi
9:30-10 a.m. Friday, Oct. 27
Edmonds Bookshop, 111 5th Ave. S., Edmonds
Don't miss the next author-led Story Time at Edmonds Bookshop, at 9:30 a.m. Friday, Oct. 27. Author Margaret Towolawi will read her children's book, Ayomide & Seyi's Kitchen: A Kid's Guide to Plant Based Nutrition from A to Z, illustrated by Anabella Ortiz. Parents are invited to come with their young ones and enjoy the reading and a special activity following the story. For more information about the author, please visit her website.
~ ~ ~ ~
Yoga in the Museum
11 a.m. Tuesdays, Oct. 31-Nov. 21
Cascadia Art Museum, 190 Sunset Ave. S., #E, Edmonds
Enjoy yoga in the beautiful and peaceful setting of the museum. This four-week session will be held on consecutive Tuesdays, from Oct. 31-Nov.21. This class will explore both stillness and fluid movement.
If you are looking for a way to complement your stretching routine with balance, core strengthening and posture exercises, this is the class for you. Some previous experience with stretching, yoga, or Pilates is recommended but not necessary. Please dress in layers and bring your own yoga mat and water bottle with a closable lid. Class time is approximately 55 minutes. To learn more and register click here.
~ ~ ~ ~
Edmonds Center for that Arts' Annual Gala & Auction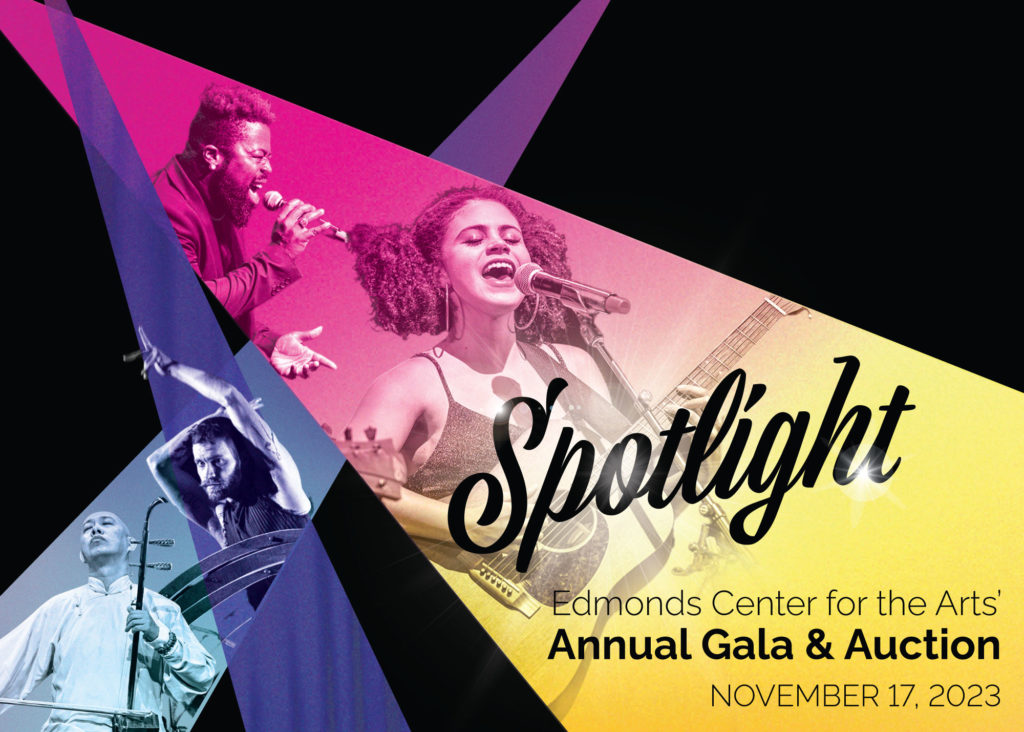 5:30 p.m. Friday, Nov. 17
Mark your calendars for Nov. 17; don't miss the ECA's biggest celebration of arts and community. Enjoy online and live auctions, raffles, special live performances, an exquisite multi-course dinner, and so much more. Find more information and buy tickets here. All funds raised at the Spotlight: Annual Gala & Auction will provide critical support for ECA'S mission and programs.
~ ~ ~ ~
A Celtic Christmas with The Gothard Sisters
7:30 p.m. Thursday, Dec. 7
Edmonds Center for the Arts, 410 4th Avenue North, Edmonds
Celebrate the beginning of the holiday season with internationally acclaimed Celtic Folk group The Gothard Sisters. The three sisters present a high-energy, festive evening weaving together Christmas carols, Celtic tunes and songs, Irish dancing and more. Great for the whole family; a perfect Edmonds Christmas tradition. Get tickets here.
The Gothard Sisters will release an album on Nov. 10 to coincide with their tour. Pre-orders will be available Oct. 20. Stay in the know on their website and be sure to check out their music shop!
— By Elizabeth Murray
Elizabeth Murray is a freelance writer thankful to call Edmonds home. When she's not busy wrangling her two kids (and husband), you can find her playing ukulele.